Libya to Restart Oil Exports in West as Eastern Output Slumps
Libya Lifts Force Majeure as Weather Continues to Hit Oil Output
(Bloomberg) -- Libya is set to restart oil exports from two key western ports after militias ended a blockade of pipelines, but shipments and production in the east continue to be hit by bad weather.
State-controlled National Oil Corp. lifted force majeure at the ports of Zawiya and Mellitah on Tuesday, according to people familiar with the matter. The terminals and the fields serving them -- including Sharara, Libya's biggest -- shut for about three weeks after a paramilitary force know as the Petroleum Facilities Guard closed pipelines in a dispute over pay.
Libya's overall production briefly rebounded to 1 million barrels a day this week when Sharara restarted, but is below 900,000 barrels a day again because of the weather disruptions in the east. That's led to the closure this week of at least four ports, according to people familiar with the matter.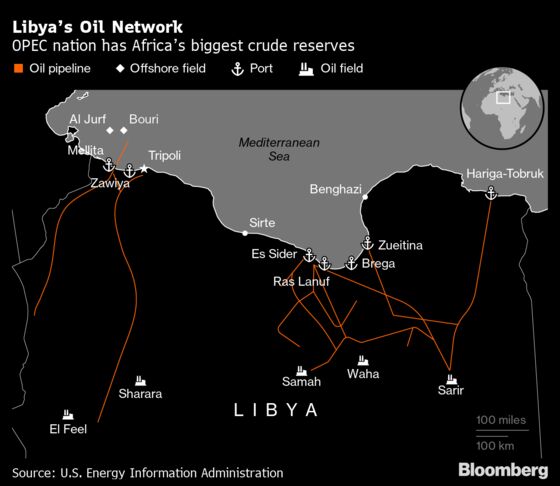 State-owned National Oil Corp. said that Waha Oil Co., the biggest producer in the east, had cut output by 50,000 barrels a day because storage at ports including Es Sider is filling up. That figure could rise to 105,000 barrels a day, it said in a statement.
Eastern firms "suffer from a lack of storage capacity because of the damage sustained from war in recent years," the NOC said. Libya is losing its "storage flexibility."
The shutdowns in the west came as political tensions in Libya rise. A presidential election was meant to be held on Dec. 24, but was delayed as disputes over the eligibility of candidates threaten to sow fresh turmoil in a country that's been in conflict or civil war for much of the past decade.
Prior to the closures, Libya's oil sector was experiencing a period of calm. Production rose above 1 million barrels a day in late 2020 and averaged around 1.2 million in 2021.