Latin Steelmakers See Opportunity to Replace Cheap China Imports
Latin Steelmakers See Opportunity to Replace Cheap China Imports
17 Jun 2021, 8:23 PM IST
(Bloomberg) -- Blast furnaces from Mexico to Argentina want to mitigate Latin America's increasing dependence on Chinese steel, and a push by the Asian giant to clean up its own industry could be just the catalyst.
As output from China's vast steel sector soars, Beijing is looking to temper the market via pollution controls and capacity cuts. Eventually, those policies could open the door for Latin American producers such as Ternium SA and Gerdau SA to substitute imports that account for more than a third of the region's supplies, according to Alejandro Wagner, the new head of Latin American steel association Alacero.
To take full advantage of a potential slowing of Chinese production in the future, Latin American governments must create conditions that help steel producers compete globally such as easing tax burdens and streamlining logistics and bureaucracy, Wagner said in an interview.
"If there isn't excess steel being poured into Latin America at rock-bottom prices under different competitive conditions, of course Latin America can produce more steel," Wagner said. "And, of course, green steel."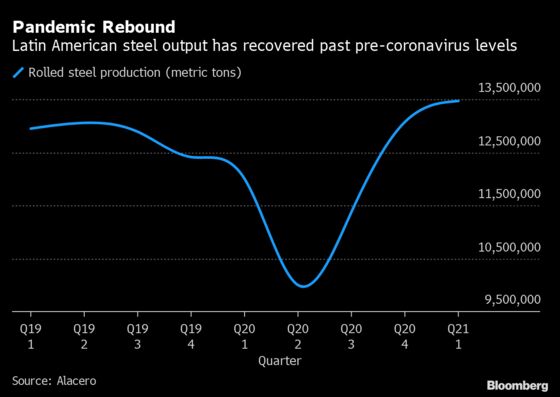 At the moment, Latin American countries have levies that "devour" too much of producers' profits, he said. Nations in the region also need to improve supply chains that, according to Wagner, can make it as expensive to move goods within a country as it is to bring them from China.
The region's steel industry is already back to pre-pandemic production levels, a recent report by the association shows, though imports continue to be a risk. A pickup in residential and commercial construction has aided the recovery but uncertainties surrounding vaccinations remain, Wagner said.
Steel futures remain elevated even after retreating last month. Wagner sees prices remaining around current levels until around the end of the year before tapering off.