Lagarde Warns Impatient Markets That U.S.-China Deal Isn't Easy
(Bloomberg) -- International Monetary Fund Managing Director Christine Lagarde urged investors against reacting to every twist and turn of the trade war, saying that a lasting U.S.-China deal will take a "long time."
Lagarde, speaking in an interview on CNBC Thursday, said she expects that the U.S. and China can identify a framework deal over trade during their 90-day cease-fire period. President Donald Trump and China's Xi Jinping agreed Saturday to halt any escalation of tariffs as they work out a broader deal on issues including China's alleged theft of intellectual property.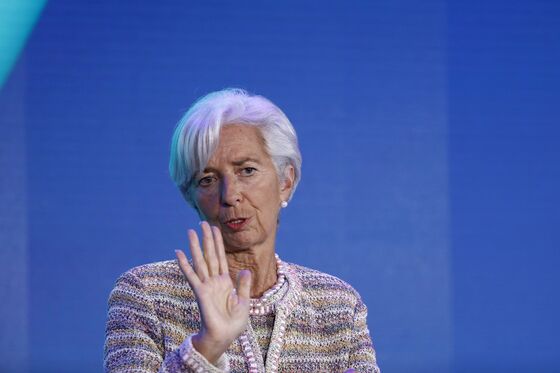 "What happened over the weekend should be a good reason to have reassurance that the lead players want to sit down, negotiate and address the issues that have been bones of contention in terms of trade," said Lagarde.
"The question is, how fast will that come. And that's where markets probably are impatient and where they want results today, and if not today, yesterday. Well, unfortunately when you negotiate those big-ticket items such as intellectual-property rights, such as subsidies to state-owned enterprises, such as rents, such as extortion of this or that, it's going to take a long time," she said.
Markets initially cheered the temporary trade truce on Monday, only to start sliding in the days that followed as Trump administration officials struggled to explain details of the deal and sent conflicting messages on what was agreed to. The slump deepened Thursday following news of the arrest in Canada of a top executive of Huawei Technologies Co., who faces extradition to the U.S. The development threatens to inflame U.S.-China tensions.
New data on Thursday also showed the U.S. trade deficit widened to the highest in a decade in October, and hit a record with China, suggesting Trump's strategy of using tariffs to ease trade imbalances isn't yet working.
"There has to be goodwill, there has to be hard work, and there has to be an understanding that not all issues will be resolved at once," said Lagarde, referring to the trade talks.
To contact the reporters on this story: Randall Woods in Washington at rwoods13@bloomberg.net;Andrew Mayeda in Washington at amayeda@bloomberg.net
To contact the editors responsible for this story: Brendan Murray at brmurray@bloomberg.net, Sarah McGregor, Randall Woods