JPMorgan Sees Stocks Vulnerable to Liquidity Shortfalls in Rout
(Bloomberg) -- Add a liquidity drain to the list of things to worry about during the equity sell-off that began in October.
At least that's the view of JPMorgan strategists, who looked at something known as the Hui-Heubel liquidity ratio that purports to measure the number of trades it takes to move prices. For futures on the S&P 500, EuroStoxx 600 and Topix index, the measure has slumped to levels last seen in February.
JPMorgan strategists led by Nikolaos Panigirtzoglou mentioned the phenomenon in a lengthy note that sought to catalog all manner of tightening in financial markets, from bonds to equities. They observed a handful of ominous signs in stock futures, including evidence there are fewer orders resting at the tightest bid-ask prices for S&P 500 e-mini futures. In all, the note said, stocks are heading for the worst year in terms of market depth since at least 2014.
Saying that weakening liquidity is feeding a market decline will reliably start arguments on Wall Street. Where critics see wavering resolve among market makers, others say it's perfectly normal for bid-ask spreads to widen when trading turns volatile. Claims that electronic intermediaries like high-frequency traders will prove unreliable when the going gets rough inform a variety of market structure critiques. The evidence it's true is scant.
JPMorgan's data shows "a more persistent decline in liquidity than simply justified by market volatility," Panigirtzoglou wrote in an email. "It also implies vulnerability because any small selling in S&P500 futures can be propagated by illiquidity."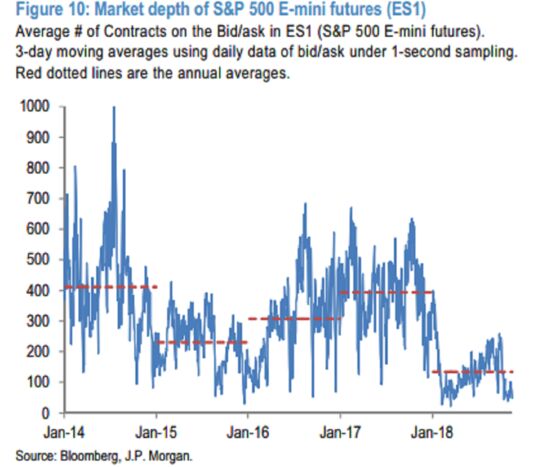 Not only has "market depth for S&P 500 futures contracts deteriorated in October" but it is also "much lower this year on average relative to either last year or previous years," the strategists wrote in the note on Friday. "This persistently low market depth leaves U.S. equities vulnerable from here."
Turbulence is erupting this year as worries grew over everything from U.S.-China trade tensions to the Federal Reserve's rate path and a slowdown in corporate earnings. The VIX has averaged 15.8, compared with 11.1 last year.
As price swings widen, market depth is shrinking. Only a little more than 100 S&P 500 e-mini contracts have changed hands each day at the tightest bid-ask spread this year, about one quarter of the average seen in 2017, JPMorgan data showed.
The sliver lining? Draining liquidity is a phenomenon that mainly exists in the stock market, the firm found. From commodities to currencies and bonds, there are "little signs of liquidity deterioration," the strategists wrote.
To contact the reporter on this story: Lu Wang in New York at lwang8@bloomberg.net
To contact the editors responsible for this story: Courtney Dentch at cdentch1@bloomberg.net, Chris Nagi, Jeremy Herron