A 1% Bond in Japan Is World's Lowest-Coupon Junk Note in 2020
A 1% Bond in Japan Is World's Lowest-Coupon Junk Note in 2020
(Bloomberg) -- Japanese consumer lender Aiful Corp. sold bonds with the world's lowest coupon for a junk-rated issuer this year, as record low rates amid the pandemic redefine what high yield means.
Aiful priced 15 billion yen ($144 million) of 1.5-year notes with a coupon of 1%, according to Nomura Securities Co., one of the underwriters. It's the second-ever junk bond offered publicly in Japan's local credit market, after Aiful priced the first such security last year at a lower coupon at 0.99%.
Unprecedented stimulus from central banks amid the pandemic has dragged down rates, and left investors clamoring for debt that may help increase returns. The average yield on high-yield bonds globally has fallen 85 basis points this year to an all-time low of 4.83%, according to a Bloomberg Barclays index. A comeback in even the riskiest junk securities is gaining ground, narrowing the gap between lower-rated and higher-quality debt.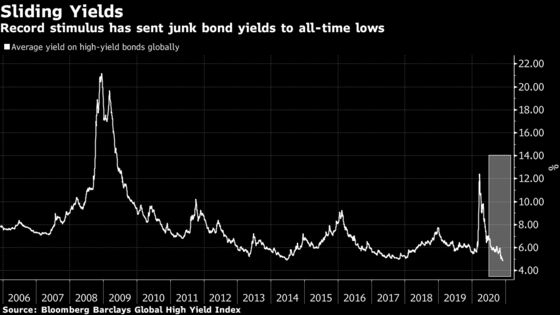 Aiful, which teetered on the edge of bankruptcy a decade ago, has speculative-grade scores from local credit rating firms. The lender's junk debt offerings are still the exception that proves the rule in Japan, where companies haven't felt compelled to sell speculative-grade notes as they've traditionally found it easy to obtain bank loans.
Asian dollar bond spreads and credit-default swaps tightened Wednesday, with spreads on high-grade notes narrowing about 3 basis points, according to traders. That's the biggest daily decline in three weeks, according to a Bloomberg Barclays index.
The Philippines is jumping back into the strong credit markets, starting to market what would be its second dollar bond this year
Demand was strong for new dollar notes, with both Hong Kong's Airport Authority and Chinese developer Kaisa Group's offerings over 10 times covered
Despite the recent strengthening of investor risk appetite, longer-term pitfalls remain. S&P Global Ratings sees a "significant risk" that more banks in Asia Pacific will join the list of fallen angels -- companies downgraded to speculative grade from investment grade -- in the next two years
CCC bonds, which were in distressed territory for the better part of 2020, have steadily rallied since the worst days of the pandemic.
The difference between their spreads and those of the next rating tier up -- B rated bonds -- is now 316 basis points, near the tightest level in two years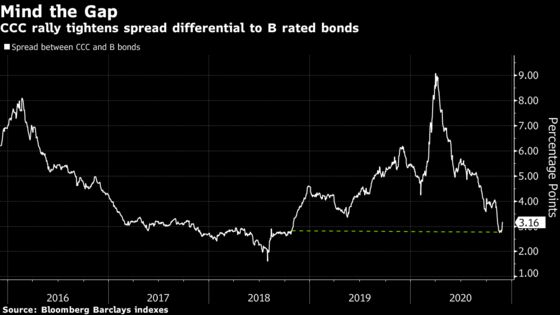 Investment firm Castlelake signed an agreement with Boeing to provide as much as $5 billion of financing to airlines and other companies looking to buy planes from the aerospace manufacturer
Gauges of default risk for high-quality and sub-investment grade companies in Europe retreated Tuesday to levels last seen in February before the coronavirus took hold.
The upbeat mood prompted eight issuers to bring deals to Europe's market for new syndicated bonds
That included a euro-denominated offering from energy giant BP Plc