Italy Studying Lower Deficit Goal After EU Talks: Budget Update
Italian officials are studying scenarios for a lower 2019 budget deficit target after weeks of pressure from the European Union.
(Bloomberg) -- Italian officials are studying scenarios for a lower 2019 budget deficit target after weeks of pressure from the European Union. Italian assets jumped.
Five Star, the League both signal compromise on deficit target
Prime Minister Conte to meet senior ministers at 7:30 p.m. in Rome
Italian bonds jump
Brussels Wants More (1:00 p.m.)
For EU officials, a reduction of the deficit target to around 2.2 percent would likely not sway the Commission's assessment that the budget breaches EU rules - especially as the bloc estimates that the deficit for next year would in fact be much higher.
What is key to officials in Brussels is whether any tweaks affect the structural balance, a key measure in assessing countries' budgets.
Italy Matters More Than Brexit, Fuest Says (11:50 a.m.)
"If Italy ends up in a financial crisis that could be a big thing, a big problem for the euro zone and the whole of Europe," said Clemens Fuest, German economist and president of the country's Ifo Institute. Compared to Brexit, "Italy is the bigger problem, particularly in in the medium term. Brexit is more of a short-term issue."
The View From the EU (11:18 a.m.)
It is unclear whether a small reduction of the deficit target would do much to stop Brussels from recommending the start of a possible infringement procedure. For EU officials, any deficit target over 2 percent was seen as too high.
Crucially, according to the European Commission's own forecasts, Italy's spending plans would actually push next year's deficit to 2.9 percent, an even greater deviation that originally foreseen.
While officials in Brussels are closely following events in Rome, they'll also be looking into whether any concessions affect the country's structural deficit -- a key measure for the commission, which excludes one-off expenditures and economic cycle effects.
Conte Wants to Know Costs Before More EU Talks (11:02 a.m.)
Premier Giuseppe Conte declined to discuss "decimal points" of the budget, speaking on the sidelines of a conference in Rome. Conte says he needs experts' reports to assess the impact of the government reforms.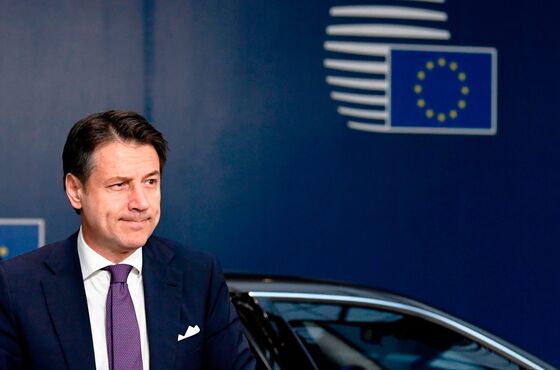 "At that point we'll have the exact economic impact of these measures, down to the euro, and we'll then be able to decide on returning to Brussels and continuing the negotiation," Conte said.
He played down long-running tensions within the government, involving Finance Minister Giovanni Tria or others. "There isn't a Conte-Tria line or a Di Maio-Salvini one, there aren't opposing stands. This government is very united." Conte said this evening's government meeting will study amendments to the budget bill and decide which ones will be backed by the administration.
Analysts Still Skeptical (10:16 a.m.)

It's one thing to lower the headline deficit target, but negotiating cuts to individual programs is far harder. Five Star is committed to delivering an increase in benefit spending to its voters, while the League is focused on defending the tax cuts that it has promised.
"I doubt that Italy will drastically change its budget," Lorenzo Codogno, visiting professor at London School of Economics and a former chief economist at the Italian finance ministry, said in an email first thing on Monday. "Still, there are significant openings, and there is still some time to at least partly change direction. If that happens, it may indeed prove market friendly."
Salvini Says He's Not Hung Up on Decimals (9:47 a.m.)
After weeks of holding the line, the key ministers have launched a media blitz this morning to explain their climb down to voters.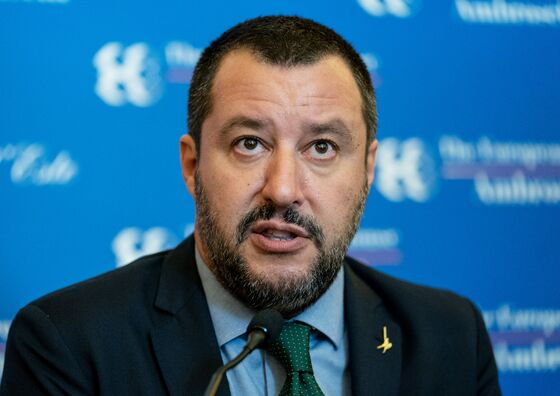 "We use common sense and substance -- we're not getting stuck over 0.1 percent more or less," League Leader Matteo Salvini tells state broadcaster RAI radio. "If in Brussels they think they can hold the government and 60 million Italians hostages over a decimal place, we are very willing to remove that excuse."
Italian Assets Rise Across the Board (9:36 a.m.)
Italian bonds rallied with stocks and the euro strengthened. The yield on the nation's two-year notes fell to 0.69 percent, the lowest level in two months. Intesa Sanpaolo SpA and UniCredit SpA shares jumped more than 5 percent as the FTSE MIB index of shares rose 2.8 percent, on course for the biggest rally since June. The euro added 0.3 percent to $1.1366.
Di Maio Confirms He Could Accept Lower Deficit (9:33 a.m.)
Deputy Premier Luigi Di Maio says government is committed to reform, but there can be dialogue with the EU on the deficit target.
"If as part of the negotiation, we need to reduce the forecast deficit slightly, that's not important to us," Di Maio, leader of the anti-establishment Five Star Movement, says in radio interview. "The issue is not the conflict with the EU on a deficit of 2.4 percent, what's important is that not even a single person is kept out of the core measures."
Di Maio is pushing a citizen's income to support poorer families and a lower retirement age as part of the budget.
League Official Signals New Target Could Be 2.2-2.3% (9:24 a.m.)
An official for the League, one of two populist parties in the governing coalition, said the administration is looking at a new target that is higher than the 2.1 percent of GDP reported in local media on Monday. The existing target, rejected by the European Commission, is 2.4 percent.
--With assistance from Chiara Albanese.
To contact the reporters on this story: John Follain in Brussels at jfollain2@bloomberg.net;Lorenzo Totaro in Rome at ltotaro@bloomberg.net
To contact the editors responsible for this story: Ben Sills at bsills@bloomberg.net, Alessandra Migliaccio
Get Your
Daily Newsletter
Get market moving news, top news & compelling perspectives
---