Iran's Foreign Minister Strikes Conciliatory Tone on U.S.
Iran's foreign minister welcomed the prospect of the U.S. rejoining the nuclear deal and said his country is willing to return to full compliance if President-elect Joe Biden lifts the crushing sanctions ordered by Donald Trump.
"The fact that Mr. Biden wants to return to the nuclear deal is great," Mohammad Javad Zarif told the state-owned newspaper Iran in an interview published on Wednesday. "We're ready to hold talks over how the U.S. can re-enter the nuclear deal."
The Biden administration, he said, can lift sanctions on Iran with three executive orders, repeating an Iranian prerequisite to returning to negotiations.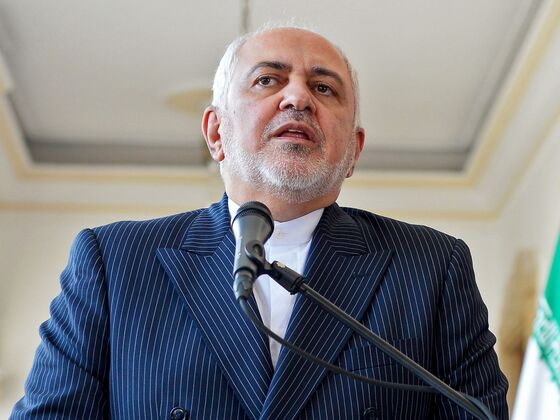 Zarif's comments were the most conciliatory yet since Biden was proclaimed the winner of the Nov. 3 U.S. election, whose results Trump continues to contest. Iranian President Hassan Rouhani, who staked his political reputation on the nuclear accord only to see it unravel after Trump withdrew, said the new circumstance will allow Iran to "move away from an environment of threat under the current insurgent U.S. government toward an environment of opportunities."
Yet the suggestion that Biden could simply turn back the clock and rejoin the 2015 deal without demanding changes ignores developments since that time.
The swelling of Iran's enriched-uranium stockpile beyond limits set by the moribund accord will complicate any efforts by Biden to revive the deal. Since Trump pulled out of the accord in May 2018, the Persian Gulf country's uranium stockpile has risen eight-fold to over 2,400 kilograms (5,291 pounds). That's enough to create three bombs if Iran chose to enrich the material to weapons grade.
Iran has denied aspiring to build bombs, even as the 2015 nuclear accord was driven by suspicion of its ambitions.
At a news conference in Vienna on Wednesday, the director general of the UN's International Atomic Energy Agency said Iran has begun using new high-tech machines to produce nuclear fuel. Rafael Mariano Grossi also said questions about the accuracy and completeness of information provided to IAEA monitors are growing.
The agency expects a credible explanation about how traces of man-made uranium were detected at a warehouse in Iran, Grossi said.
The Trump administration has spent four years railing against threats from Iran, which it sees as sowing turmoil across the Middle East. In its waning days, it's stiffened sanctions against Tehran and is working to sell sophisticated weaponry to its foes. Two of those enemies, Israel and the United Arab Emirates, have normalized relations in recent months, in large part driven by a desire for a common front against Iran.
Iran, for its part, is facing a presidential election in June while its economy has crumbled under the weight of American sanctions. That could lead it to take an unyielding line on lifting the penalties as a prerequisite for any talks with the U.S., a demand that could confront stiff opposition in the U.S. Congress.
The potential that Iranian elections could lead to a much harder-line government could temper Biden's enthusiasm to get the job done.
Biden, in a September op-ed for CNN, said he would offer Tehran "a credible path back to diplomacy" but hinted that he'd make further demands on the Islamic Republic.
"If Iran returns to strict compliance with the nuclear deal, the United States would rejoin the agreement as a starting point for follow-on negotiations" that would strengthen and extend the deal's provisions "while also addressing other issues of concern," he said.
These include Iran's support for militant movements that have destabilized the Middle East and its ballistic missile program.
Despite all these challenges, Zarif sounded buoyant.
"I expect the situation to significantly improve in the next few months," the Iranian foreign minister said. "When Mr. Biden decides to fulfill U.S. obligations," he said, "we will be ready to quickly return to our commitments. This process is not time-consuming at all."