Investors Haven't Been This Bearish Since 2008 Financial Crisis
While stocks kicked off June in the green after last month's sell-off, they have struggled to gain momentum.
(Bloomberg) -- Investors haven't been this pessimistic since the global financial crisis of 2008.
That's according to a Bank of America Merrill Lynch survey of money managers with $528 billion between them. Equity allocations saw the second-biggest drop on record, while cash holdings jumped by the most since the 2011 debt-ceiling crisis, the June poll showed. Concerns about the trade war, a recession and "monetary policy impotence" all contributed to the bearish sentiment, Bank of America said.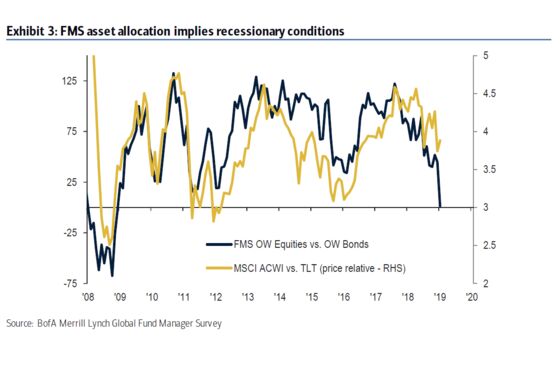 While stocks kicked off June in the green after last month's sell-off, they have struggled to gain momentum. Investors worried about the lack of progress in U.S.-China trade talks and weak economic data are keenly watching the upcoming G-20 meeting and the Federal Reserve rate decision in the next couple of weeks.
Global growth expectations collapsed, Bank of America said, with half of the surveyed fund managers forecasting weakness over the next 12 months. The surge in cash levels set off the strategists' contrarian buy signal for stocks, even as the poll showed relative exposure to equities over bonds narrowed to the tightest level since May 2009.
"Fund manager survey allocation is implying recessionary conditions," Bank of America strategists led by Michael Hartnett said in a note. "Investors are overweight assets that outperform when interest rates & earnings fall and underweight those positively correlated to rising growth and inflation."
Inflows into government bonds and a rally in defensive stocks show that investors are increasingly positioned for bad news. The survey conducted between June 7 and 13 showed a rotation into fixed income, cash, utilities and staples and away from banking, tech and euro-area shares.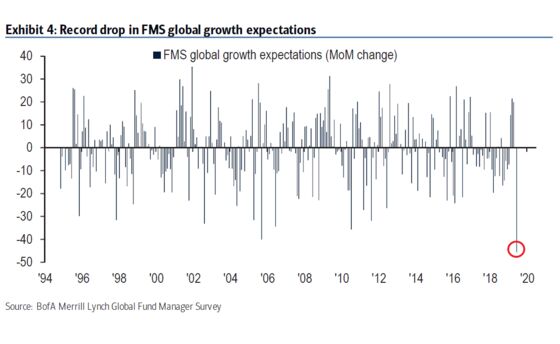 Other takeaways from the survey include:
Being long U.S. Treasuries is now the world's most crowded trade, replacing U.S. tech stocks
Trade-war concerns are soaring, with 56% of surveyed investors saying it's the top tail risk
Fund managers expect the Fed to cut rates if the S&P 500 falls to 2,430 and expect President Trump to seek a comprehensive trade deal if the benchmark drops to 2,350
Interest rate expectations have tumbled as 32% of those in fund manager survey expect short-term interest rates to fall over the next 12 months
--With assistance from William Canny.
To contact the reporter on this story: Ksenia Galouchko in London at kgalouchko1@bloomberg.net
To contact the editors responsible for this story: Blaise Robinson at brobinson58@bloomberg.net, Namitha Jagadeesh, Paul Jarvis