Shares in Iconic Taiwan Brand Plunge After 'Flawed' Board Vote
Investors Slam 'Flawed' Vote in Battle for Iconic Taiwan Brand
(Bloomberg) -- Follow Bloomberg on LINE messenger for all the business news and analysis you need.
Shares in one of Taiwan's favorite household-appliance brands fell by the daily limit as a power struggle for control of the company intensified after a controversial shareholder vote Tuesday.
Tatung Co. plunged by 10% in early trading Wednesday as one of the worst performers on the MSCI Asia Pacific Index after Lin Kuo Wen-yen was re-elected chairwoman at a shareholders meeting Tuesday. She successfully retained control of the company by allegedly blocking dozens of institutional and individual shareholders from taking part in the vote. The investors who were denied their vote hold over 50% of the company's shares, according to a Facebook post by Huang Kuo-chang, a candidate to be one of the company's independent directors.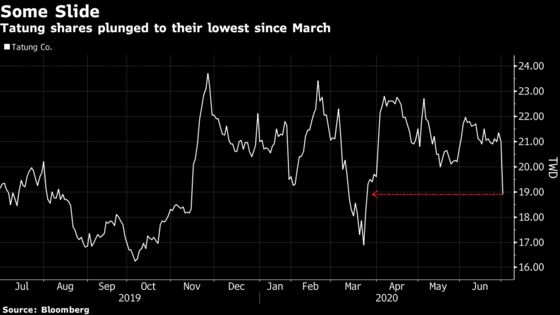 The company's decision to block certain shareholders from voting has come in for widespread scrutiny. The Taiwan Stock Exchange announced late Tuesday it would limit Tatung shares to full-delivery trading from Thursday, saying the company had failed to adequately justify its voting procedures. Full-delivery shares must be paid for in full in advance and is a measure usually reserved for companies in financial difficulty.
Tatung said in a statement Tuesday it had barred what it deemed "illegal" shareholder representative from voting and it had adhered to all relevant laws during the shareholders meeting.
Tatung did not immediately respond to emailed and telephone requests for comment outside of normal business hours.
The vote marks the latest skirmish in a long-running battle for control of the board between Lin Kuo and a group of investors led by Wang Guangxiang, the head of a local construction company and one of the Tatung's biggest shareholders.
Tatung's current management asked Taiwan's financial regulator to verify the sources of Wang's funds earlier this year over suspicions he has backing from Chinese investors. Only qualified mainland Chinese institutional investors are allowed to buy Taiwanese shares, and are limited to stakes of 10%, according to regulations.
Taiwan to Get Tough on Illegal China Investing After Violations
The Tatung board's voting procedures, including its "arbitrary" decision to bar shareholders suspected of being backed by Chinese capital from voting Tuesday, are flawed, according to a statement from the Securities and Futures Investors Protection Center, a shareholder rights organization. It added that Tuesday's vote was the "biggest setback" in Taiwan's efforts to strengthen corporate governance. The organization condemns such acts and may request a vote annulment if needed, it said.
Shareholders who have concerns about the leadership vote at Tuesday's meeting have 30 days to request that the courts annul the resolution, the Taipei-based Central News Agency reported, citing an unidentified official from the Ministry of Economic Affairs.
One of Taiwan's oldest home appliance brands, Tatung is famous for its iconic rice cookers. Despite reporting annual losses for much of the past decade, the company has appeal as an investment target due to its real estate holdings, which include an entire block in one of Taipei's most desirable neighborhoods.