Sunac Seeks Share Sale, Says Dispute Resolved: Evergrande Update
(Bloomberg) -- Developer Sunac China Holdings Ltd. is seeking to raise $500 million in a top-up share placement, partly to repay short-term loans, after saying earlier Wednesday it had resolved a dispute that triggered a rout in its dollar bonds. 
Sunac's onshore unit had been told by a local court in Shenzhen that some of its equity interests would be frozen. The company is now working toward withdrawing that order, it said. 
Some of China's most stressed property developers face a raft of key payments this week, a test for the country's volatile credit market. China Evergrande Group, which already failed to repay dollar debt on time, is seeking to avoid its first onshore default when holders vote on whether to allow the firm to defer payment Thursday. 
Almost half of China's provinces saw revenue from land sales drop more than 20% in 2021, a report showed separately.
Chinese high-yield dollar bonds declined by at least 2 cents on the dollar, according to credit traders.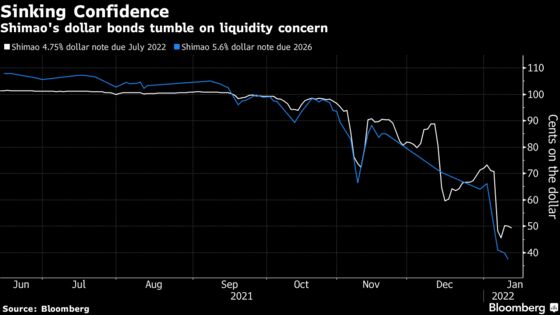 Agile Group Has Several Asset Disposal Options: Deutsche Bank
Shimao May Be Forced to Sell Some Hong Kong Projects at a Loss
Sunac Seeks $500m in Share Placement (6:29 p.m. HK)
Sunac China Holdings is offering 390 million shares at HK$10 apiece in a top-up placement, according to terms of the deal obtained by Bloomberg News
The price represents a discount of 15% to Wednesday's close of HK$11.80. Proceeds will go to repay short-term loans and for general corporate purposes.
Logan Pays Dollar Bond Coupons (6:04 p.m. HK)
Chinese developer Logan has made all three dollar-bond interest payments due this week, according to a company spokesperson. 
The firm had a $9.56 million coupon on a 2025 note due Wednesday, $6.75 million due Thursday on a 2028 bond and $8.63 million Friday on a 2025 note, according to data compiled by Bloomberg.
Bank lending stabilizes (4:47 p.m. HK)
China's credit expansion stabilized in December after the central bank called for an increase in lending to the property industry. The stock of outstanding credit grew 10.3% to 314.13 trillion yuan ($49.4 trillion), faster than November, the People's Bank of China said Wednesday. Financial institutions offered 1.13 trillion yuan of new loans in the month. Economists had projected 1.25 trillion yuan. 
Sunac working to withdraw court order (2:23 p.m. HK)
The developer said the issue was a "small dispute" over "business cooperation." The Shenzhen court ordered Sunac Real Estate to freeze some equity interests in Guangzhou Wanda Cultural Tourism City Investment, Shanghai Sunac Property Development and a Wuhan unit, according to data from Tianyancha, which tracks public registrations.
Chinese local land sales slumped in 2021 (2:08 p.m.)
Most Chinese local governments saw revenue from land sales fall last year, damaging their budgets. Thirteen of China's 31 provinces saw income from selling land-use rights drop more than 20% in 2021 from a year earlier, Tianfeng Securities Co. analysts including Sun Binbin wrote in a note Wednesday. 
Another 10 had declines of 20% or less and only six provinces, including Beijing, Shanghai, and Zhejiang, saw revenue from land sales grow. There was no information on two provinces.
Minsheng lent billions to Evergrande (0:00 a.m. HK)
An ill-fated push into property lending has turned China Minsheng Banking Corp. into one of the biggest casualties of the real estate debt crisis that's roiling Asia's largest economy. Battered by mounting losses on loans to developers including Evergrande, Minsheng's stock tumbled 31% in the 12 months through last week -- the worst performance in the 155-member Bloomberg World Banks Index.
Minsheng has about 130 billion yuan ($20 billion) of exposure to high-risk developers, amounting to 27% of its so-called tier-1 capital, the most among big Chinese lenders, Citigroup Inc. analysts estimated in a September research report. The bank will need years to work through its bad debt problem and a capital injection from a stronger rival can't be ruled out, said Shen Meng, director at Chanson & Co., a Beijing-based boutique investment bank
Oceanwide gets default notice, demand for $165M repayment (9:40 p.m. HK)
China Oceanwide has received a default notice on a $1.28 million loan with the lender saying the default triggered an acceleration clause for full immediate repayment in all amounts totaling $165 million, according to a Hong Kong stock exchange filing. The real estate firm said it's seeking legal advice and making efforts to secure funding to repay the outstanding sums.
Shimao plans to repay yuan bond due Saturday (6:19 p.m. HK)
Shimao Group Holdings Ltd. is set to repay a local bond maturing Saturday after the developer received higher-than-anticipated cash inflows from property sales in December, according to people familiar with the matter.
Onshore subsidiary Shanghai Shimao Co. has set aside funds to repay the 4.65% local bond with outstanding principal of 1.9 billion yuan ($300 million), said the people, who asked not to be identified as the matter is private.
Meanwhile, Shimao's long-term issuer default rating was downgraded by Fitch to B- from BB, citing concerns about its "lower margin of safety in preserving liquidity".