Investors Haven't Been This Bullish on U.S. Stocks Since 2015 
Investors Haven't Been This Bullish on U.S. Stocks Since 2015 
(Bloomberg) -- The bull run that has taken U.S. equities to record highs this year may be about to reach its peak, according to the latest survey of fund managers by Bank of America Merrill Lynch.
Allocations to U.S. stocks jumped 10 percentage points this month to a net 19 percent overweight, the highest since January 2015, the survey said. That makes America the most popular equity region for the first time in five years, according to the bank's analysts.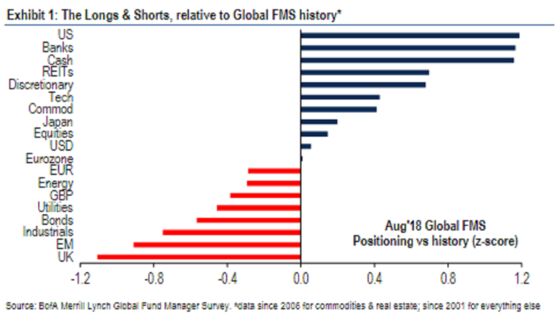 For BofAML, the latest positioning across asset classes signals a potential peak.
"With investors telling us they are long the U.S., the Fed and cash, our view remains: peak profits, policy and returns," said Michael Hartnett, chief investment strategist. "Rising corporate leverage concerns say bonds should outperform stocks, while a weaker profit outlook suggests defensives could outperform cyclicals."
Safe-haven appeal has combined with a strong earnings season to keep the stock market of the world's biggest economy attractive this year even as President Donald Trump's trade curbs pose a threat to global economic growth. Some 57 percent of respondents in the BofAML survey cited a trade war as the biggest tail risk.
A net 67 percent of recipients said the U.S. was the most favorable region for corporate profit expectations, the highest proportion in 17 years. Long FAANG and BAT remained the most-crowded trade identified by investors for the seventh straight month.
Underweight positions on emerging markets are at around minus 1 percent, compared with an average of minus 27 percent during previous emerging-market crises, analysts at the bank said. The survey was conducted between Aug. 3 and 9 among 243 investors with a total $735 billion under management.
To contact the reporter on this story: Natasha Doff in Moscow at ndoff@bloomberg.net
To contact the editors responsible for this story: Samuel Potter at spotter33@bloomberg.net, Tracy Alloway