Investors Love Copper But Not The Cost of Building a New Mine
Investors Love Copper But Not The Cost of Building a New Mine
(Bloomberg) -- As copper bulls pushed prices to the highest in almost a decade, the end of a six-month corporate spat showed that some investors were still reluctant to back a long-term bet on the metal.
The chairman of KAZ Minerals Plc finally completed a six-month battle to take the company private on Monday, drawing to a close a 15-year stint as one of the biggest London-listed copper producers. While the world's top miners are universally bullish on copper as the electric-vehicle revolution promises to expand demand, the investment horizons of shareholders don't always stretch to developing a new mine.
KAZ's move to go private can be traced back to a 2018 decision to buy a Russian copper project from Chelsea Football Club owner Roman Abramovich and his partners. With projected development costs of $8 billion -- almost double the miner's current market value -- the Baimskaya deal spooked investors as it threatened to suck up profits that could otherwise fund dividends for years. The shares lost almost 30% on the day the acquisition was announced.
"I really regret that I cannot build this size of project while being public," Oleg Novachuk, KAZ's chairman and leader of the Nova Resources BV vehicle that bought it, said in an interview Monday. "The appetite for risk in the public market is not possible to match with the risk of this project."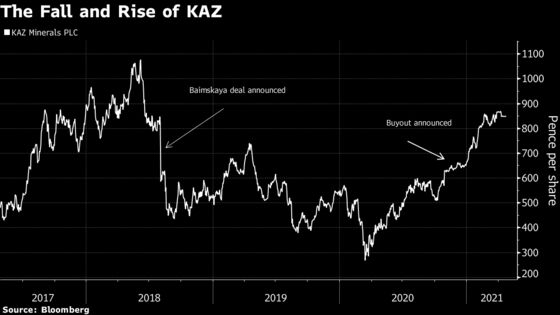 Despite constrained supplies, it's not just smaller miners that face such obstacles to mine development. After years of value-destructive deals and project blowouts, investors have been demanding caution, while mining executives aren't keen to repeat the failures that cost predecessors their jobs.
Anglo American Plc felt compelled to take on a partner to build its Quellaveco copper mine in Peru in an attempt to lower the risk of the project. That approach stemmed from its disastrous Minas Rio project, an iron ore mine in Brazil that cost $14 billion to buy and build and almost sunk the company.
"The public markets are scared of the bad examples," said Novachuk. "I expected these kind of difficulties, but I didn't expect the difficulties would be so tremendous to stop us being public."
Unfortunately for Novachuk and fellow board member Vladimir Kim, the move to take KAZ private coincided with copper surging to the highest levels since 2011. That sparked renewed interest in the company and forced the bidders to twice up their offer, from an initial 640 pence a share to a final bid worth 869 pence a share.
Novachuk said he's confident that they can get the support from financial institutions both in Russia and internationally to build the mine and didn't rule out retuning to public markets once the project was nearer completion.
"It's so far away from now, in a few years time we may meet again and discuss where we are," he said. "Who knows, maybe yes. I would love to be public."