Investors Get Blindsided by Vanishing Odds of Brexit Deal
Just a week ago, U.K. markets were telegraphing that a Brexit deal was in the cards after months of torturous negotiations.
The pound had hit a two-year high and the FTSE 250 Index of mid-cap stocks was coming off its best month in a decade. In one of the bolder sell-side calls of late, Goldman Sachs Group Inc. declared British assets a buy, projecting sharp gains in the pound and stocks.
Now, prospects of a trade deal with the European Union are seemingly vanishing. On Monday, a British official warned talks could collapse unless negotiators make progress in the next few hours, and a spokesman for Prime Minister Boris Johnson ruled out the possibility of talks continuing next year.
"It now appears investors have been caught very much off-guard," John Hardy, head of FX strategy at Saxo Bank, wrote in a note.
The pound slid 0.9% against the dollar and the FTSE 250 lost 1.1% on Monday. Here are a few charts that show investors have been positioning for a deal:
U.K. mid-cap stocks have been absorbing plenty of cash, partly driven by a rally in value stocks around the world.
The Vanguard FTSE 250 ETF has taken in 240 million pounds ($319 million) in December alone. That puts the fund of British midcap stocks on pace for its best month in a year, and follows a 145 million pound inflow in November.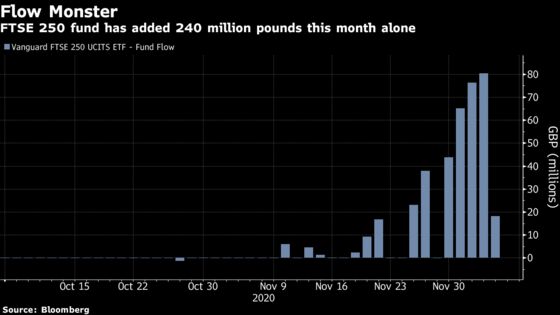 Hedge funds and other speculators have pared their short in the pound recently, with the latest data from the Commodity Futures Trading Commission showing a move back toward neutral positioning. Meanwhile, the cost to guard against further swings in the U.K. currency has surged.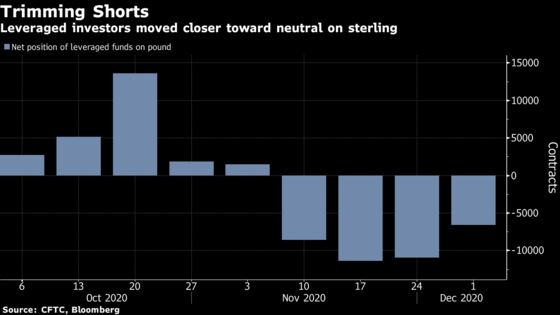 "In the case of no deal, we expect a profound GBP collapse -- EUR/GBP above 0.95, possibly briefly touching parity -- due to the fact that this outcome would come as a surprise and investors have not been pricing this in," ING Groep NV strategists including Petr Krpata wrote in a note.
Sterling and the options market are now moving in-tandem, suggesting hedges in the run-up to this seemingly make-or-break week are proving insufficient.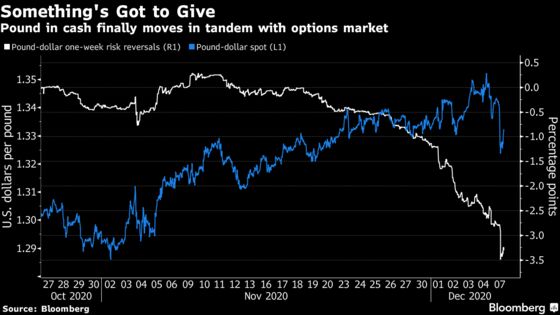 "The move in GBP illustrates that the market is reviewing its expectations of the chances of a deal," said Jane Foley, head of FX strategy at Rabobank. "My personal view is that it is 50:50. We can not under-estimate the importance of sovereignty to the U.K."
Still, many investors say they're still expecting a deal -- even if it comes down to the wire.
"We still think there's a better probability that we get some kind of deal before the deadline," Scott Thiel, chief fixed income strategist for BlackRock Inc., said during a press conference with reporters on Monday. "It's very difficult particularly in a political negotiation process like this to understand a particular dynamic, particularly as it becomes very close to the end."