Reflation Trades Look to Revive Amid Global Commodities Fervor
(Bloomberg) -- The market's reflationistas are getting a second wind, as a string of solid economic numbers and the prospect of more stimulus raise the chances of a revival in trades linked to rebounding growth and prices.
A gauge of U.S. inflation expectations climbed to an eight-year high Tuesday, the Bloomberg Commodity Spot Index reached its highest since 2012 and Treasury yields saw gains across the curve.
Reflation believers have warmed to reports showing soaring home prices and consumer confidence. They are also looking ahead to President Joe Biden's pitch for a large social-spending package to Congress Wednesday and a renewed commitment from the Federal Reserve to allow inflation to run hot.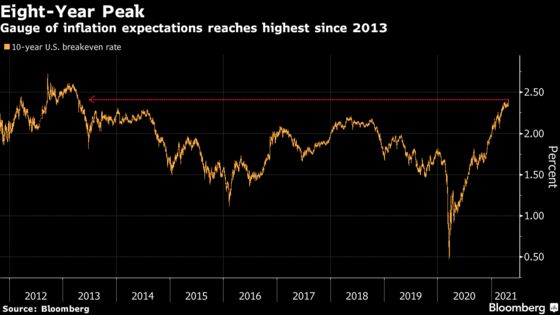 "The inflation question will continually return to investors' minds this year," said Andy Wong, senior investment manager of the international multi-asset team at Pictet Asset Management in Hong Kong. "The U.S. household balance sheet is the healthiest it has been for years, and 'excess savings meets disrupted supply chains' means dislocation in supply and demand."
The reflation trade had hit a wall this month, with havens such as Treasuries rallying and cyclical shares underperforming as spikes in Covid-19 infection rates around the world forced renewed lockdowns in major economies. But the relentless rise in commodity prices has pushed inflation expectations out of their lull and some strategists expect the rally to continue.
Goldman Says Commodities Will Power On as Oil Demand Leaps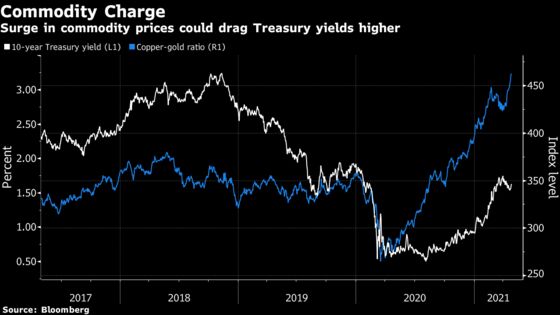 The sharp increases in the cost of materials are motivating companies such as Procter & Gamble Co. and Chipotle Mexican Grill Inc. to pass on costs to consumers -- moves that raise questions about the Fed's assurances that any bump in inflation will be short-lived. The 10-year breakeven rate, a proxy for where investors see annual inflation rates over the next decade, topped 2.4% Tuesday -- the highest since April 2013.
"There's some skepticism there as to whether it is transitory, given the delays in supply chains and potentially some productive capacity destruction as a result of lockdowns," said Anthony Doyle, global cross-asset investment specialist at Fidelity Investment Management in Sydney.
Still, not everyone is ready to pile back into the reflation trades that gripped markets earlier this year. An MSCI Inc. gauge of global value shares -- which have high exposure to economic growth -- has lagged its more defensive growth counterpart by nearly 4 percentage points this month and has barely budged this week.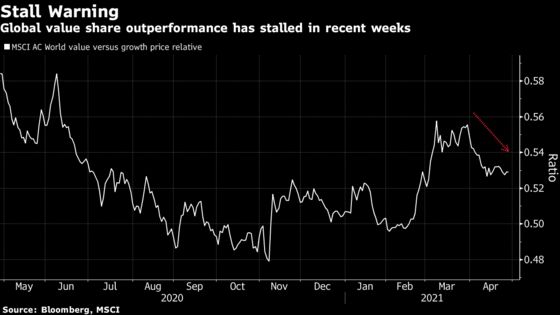 BlackRock Inc. has turned neutral from overweight on U.S. inflation-linked bonds after the recent rebound in inflation expectations. The world's largest asset manager has also cut its short positioning in Treasuries.
Nevertheless, it's harder to dismiss inflation risks given the positive surprises in recent economic reports.
"All of the better data points to a higher-inflation narrative that the market is reflecting," said Rob Daly, director of fixed income for Glenmede Investment Management in Philadelphia.