ITC Drags Indian Stocks to Their Steepest Decline in Three Weeks
Indian equities fluctuated as investors continued to assess the outcome of China-U.S. trade talks and outlook for global growth.
(Bloomberg) -- Indian equities fell as the key indexes capped their steepest decline in three weeks after an earnings report by a hotels-to-tobacco conglomerate. The gauges fluctuated in a tight range before that as investors continued to assess the outcome of China-U.S. trade talks and the outlook for global growth.
The benchmark S&P BSE Sensex retreated 0.9 percent to 36,108.47 at the 3:30 p.m. close in Mumbai, fluctuating between a high and low of 0.2 percent almost till the last hour of trade. The NSE Nifty 50 Index dropped 0.8 percent.
ITC -- which weighs 6.5 percent on the Sensex and about 5.5 percent on the Nifty -- pulled the gauges down after some analysts said the company's earnings before interest, taxes, depreciation, and amortization as a proportion of sales, or Ebitda margin, was lower than estimated. Barring earnings surprises, local equities are otherwise seen reacting to developments of global trade negotiations and domestic political campaigning ahead of the national elections that are likely to start in April.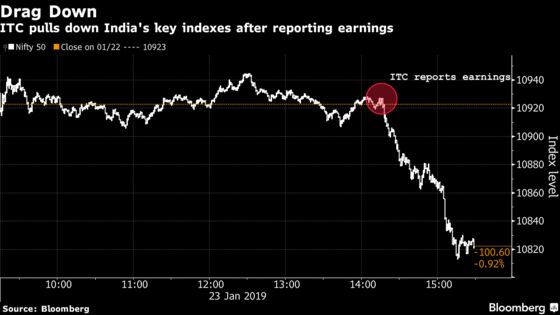 "Profit margins at ITC were disappointing, mainly in the farm business," Abhishek Roy, an analyst at Stewart & Mackertich Wealth Management Ltd. in Kolkata, said on phone. "My calculations show that the company reported Ebitda of 43.3 billion rupees, 38.5 percent of revenue, against my estimate of 44.8 billion."
"Slowing global growth, drying liquidity from both overseas and local investors are the major risks" to Indian stocks, said Manish Sonthalia, chief investment officer of portfolio management services at Motilal Oswal Asset Management Co. in Mumbai.
The outcome of U.S.-China trade talks, interest-rate action by the Reserve Bank of India and political rhetoric heading into the general elections will determine short-term direction, he said.
"We remain long on Indian equities and prefer" shares of consumer staples, privately-owned banks that lend more to companies than retail customers, software exporters and drug makers, Sonthalia said.
ITC declined 4.3 percent, the most since July 2017, as shares traded exceeded the three-month full-day mean volume by more than four times. The stock fell the most among Sensex and Nifty members even as its net income and revenue topped estimates.
Seventeen of the 19 sector gauges compiled by BSE Ltd. fell, paced by the S&P BSE Fast Moving Consumer Goods Index, where ITC has the biggest weighting of nearly 38 percent. The gauge dropped 1.4 percent.
Twenty-two of the the 31 Sensex members and 29 of the 50 Nifty companies retreated.
ICICI Prudential Life Insurance Co. plunged by a record 12 percent, the steepest drop on S&P BSE 200 and S&P BSE 500 gauges, after it reported a 34 percent decline in its December quarter net income from a year earlier. Jefferies cut the rating on its shares to underperform from hold.
Nation's top drugmaker Sun Pharmaceutical Industries Ltd. gained 2.8 percent, the most among Sensex and Nifty member. This was a second day of advance after announcing some changes to address concerns about its governance practices.
Analyst Notes/Market-Related Stories
ICICI Prudential Life Unit-Linked Plan Sales Slow: Prabhudas
Nifty Pattern Shows Breakout; Avoid Over Leverage: IndiaNivesh
Asian Paints Raised to Outperform at Macquarie; PT 1,580 Rupees
To contact the reporter on this story: Ameya Karve in Mumbai at akarve@bloomberg.net
To contact the editors responsible for this story: Divya Balji at dbalji1@bloomberg.net, Margo Towie, Kurt Schussler