India's Top Stock Exchange Halts Trading After Telecom Disruption
Around 10:30 am, traders flagged that levels for the cash segment on Nifty 50 Index as well as Nifty Bank Index stopped updating.
(Bloomberg) -- India's two national equity bourses in a rare move extended trading hours for Wednesday after the National Stock Exchange of India Ltd. had to shut its cash and derivative segments due to "issues" with telecom links of its two service providers.
The joint decision came after the NSE, the world's biggest derivatives exchange by number of contracts, halted trading for more than three hours in what was its longest-ever outage. Marker regulator Securities and Exchange Board of India has asked the exchange to carry out a detailed root-cause analysis of the halt and explain why trading didn't migrate to its disaster recovery site.
The extension of trading until 5 p.m. in Mumbai -- compared with the typical 3:30 p.m. finish -- helped with the closure of open positions ahead of Thursday's expiry of monthly derivatives contracts, which typically leads to an increase in market volatility.
Stocks rallied in the extended trading session. The NSE Nifty 50 Index ended at 14,982, up 1.9% while the S&P BSE Sensex closed with a 2.1% gain. That's even as the regional benchmark for Asian stocks dropped 1.8% earlier in the day.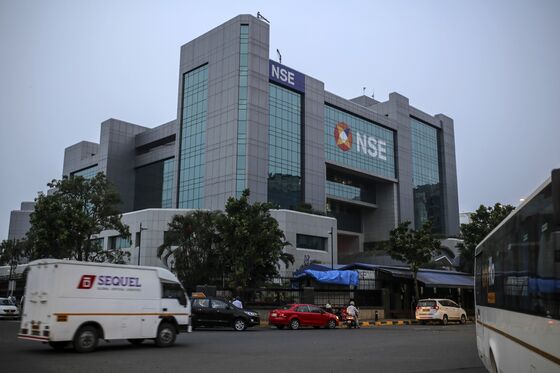 "The trading halt has taken the anxiety among traders to the next level," said Ajit Mishra, vice president of research at Religare Broking Ltd. "Though the extended hours helped, we still expect volatility to remain high on Thursday due to the scheduled derivatives expiry of February month contracts. It would be prudent to avoid naked leveraged positions in early trades and prefer hedged bets."
Technical glitches have disrupted trading at several stock exchanges in the Asia Pacific region in recent months. In October, a hardware issue forced an unprecedented all-day halt on the Tokyo Stock Exchange. Australia's stock exchange opened for less than half an hour on Nov. 16 before a software issue forced it to close for the rest of the session.
The NSE handles about twice the stock volume of rival BSE Ltd. and controls about 80% of India's derivatives market.
The NSE's total futures and options turnover was 30.6 trillion rupees Wednesday, about a quarter lower than 40.3 trillion rupees in the previous session. Volumes on the BSE at 407 billion rupees were the highest since March 2017, due to diversion of trades to that exchange, according to Deepak Jasani, head of retail research at HDFC Securities Ltd.
About an hour into trading on Wednesday, traders in Mumbai flagged that levels for the cash segment on the NSE's benchmark Nifty 50 Index as well as the Nifty Bank Index stopped updating.
After nearly 90 minutes of that disruption, at around 11:40 a.m., the exchange notified that it was shutting down all its market segments, including derivatives trading as it received communication from two telecom service providers about "issues" with their links due to which there is an impact on NSE system.
Wednesday's disruption revived memories of an episode in July 2017, when the NSE shut both the cash and derivatives segments due to technical issues, with traders unable to execute trades at its venue and prices not updating. Trading was later restarted after keeping traders on tenterhooks for about three hours with conflicting messages about what time operations would resume.
NSE has been planning an initial public offering since 2016, which was delayed after it was embroiled in a probe into whether it allowed preferential access to some high-frequency traders. The NSE has since closed the loophole, regulator Sebi said in an order in 2019 while imposing a fine.
"The image of the exchange is also at stake," said Anita Gandhi, director at Arihant Capital Markets.