Record India Stock Run Is Increasing Risks for Nation's Economy
(Bloomberg) -- India's record-breaking stock rally may be enriching investors, but it is posing risks for the nation's economy, according to Bloomberg Economics. 
The economy's vulnerability to a market setback has increased given the sharp run-up in gains. And a retreat for the Nifty 50 Index, trading at about 35% above its historical trend level, would reduce gross domestic product by 1.4% in the same quarter of the shock and by 3.8% over the following year, Ankur Shukla, an economist with Bloomberg Economics, wrote in a separate note.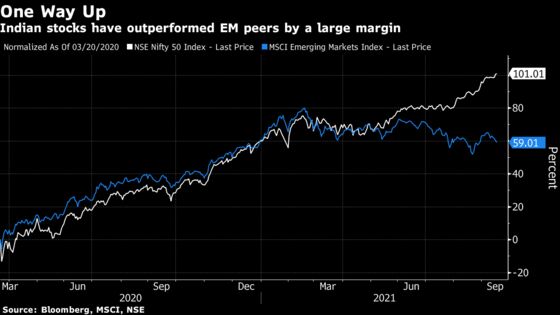 "The higher stocks climb, the greater the risks to the economy if they correct -- an important consideration at a time when the Federal Reserve is weighing the timing of tapering stimulus," Shukla said. 
The Nifty 50 has rallied nearly 26% this year, the best-performing major stock index in Asia, despite the fresh waves of Covid-19 outbreaks in the country. Investors have been betting on a a pick-up in consumer demand, record-low interest rates and improving prospects for the manufacturing sector.
As a result, the Nifty is now trading at 22.2 times estimated 12-month earnings, well above its five-year average of 18.5. By comparison, the MSCI Emerging Markets Index is trading at a multiple of 12.7.