IMF Tells Korea Time to Lift Longstanding Short-Selling Ban
(Bloomberg) -- The International Monetary Fund has weighed in on one of the world's longest pandemic-imposed bans on short-selling and urged South Korea Thursday to lift restrictions on the key hedging strategy.
"Since financial conditions in Korea and the functioning of the market following the Covid outbreak have now stabilized, we believe that conditions are in place to move to reinstate this practice of short selling," said Andreas Bauer, an official at the fund, at a virtual press conference on the Korean economy on Thursday. "This will improve the functioning of markets and also help ensure that investors are more sensitive to risks."
South Korea banned short-selling early last year, joining a host of other countries globally that did so including France and Italy who prohibited the practice to help tame their markets as the pandemic spread. The country, whose stock market was one of the world's best performers last year, now remains the only one apart from Indonesia to have stuck with the restriction. The Southeast Asian nation is planning to resume the strategy of trading of betting against stocks next month.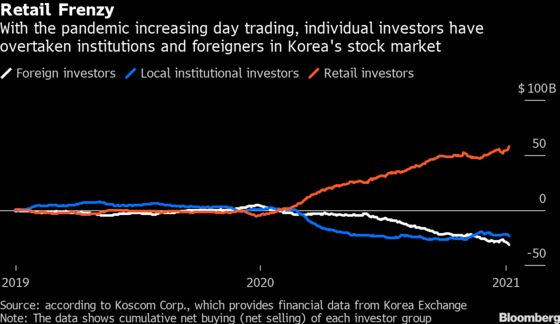 The IMF's comments come as Korean lawmakers discuss an extension of the ban -- set to expire on March 15 -- until June. Retail investors have come to dominate trading during the pandemic, and now account for nearly 70% of South Korea's total trading value. In 2019, they were a smaller force than institutional investors and had just a 48% share of the market. Short selling has also become a contentious topic globally as retail traders on Reddit's message boards wage a war against professional short-sellers and force them to exit some of their bearish positions.
Small-time Korean investors have been vocal in arguing against resuming short selling, which they say will hurt the market rally and put them at a disadvantage against big investors.
The government, with two important by-elections due in April as well as a presidential election next year, has already extended the ban imposed in March once in September. Prime Minister Chung Sye-kyun said at a forum on Thursday that South Korea should improve system for stock short-selling before resuming it.
"From our discussions and conversations (with Korean government officials), we do understand there are concerns over the access of short selling and protection for retail investors," said Bauer, IMF Mission Chief for Korea. "Retail investor protection is very important to level the playing field between all market participants.
"However, an outright ban on short selling on those grounds is a very blunt instrument to address this concern. It could cause more costs in terms of market efficiency," Bauer added.