Huarong Plans Asset Sales to Avoid Debt Restructuring
Huarong Plans Asset Sales to Avoid Debt Restructuring
(Bloomberg) -- China Huarong Asset Management Co. is preparing to offload non-core and loss-making units as part of a broad plan to revive profitability that would avoid the need for a debt restructuring or government recapitalization, according to people familiar with the matter.
The state-owned manager of non-performing loans, which spooked investors this month after delaying its earnings report, has submitted the plan to regulators and received positive initial feedback, the people said, asking not to be identified discussing private information.
Huarong is still determining the value of its stakes in some onshore and offshore units and finalizing which ones will be sold, part of the reason it held off releasing 2020 results, the people said. The company is also awaiting final approvals from Chinese authorities.
Spreads on Huarong's dollar bonds tightened by as much as 150 basis points and prices for its perpetual note surged after Bloomberg reported the overhaul proposal, according to credit traders.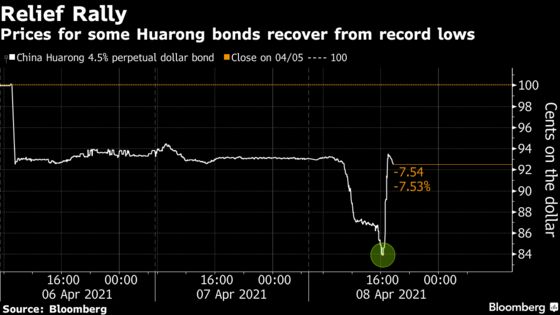 Huarong's bonds and those of several peers had tumbled earlier this month on speculation the delayed earnings report was a harbinger of stress at a company that's deeply intertwined in China's financial system. Huarong's financial health has in fact improved over the past year, the people familiar said.
Representatives from Huarong and the China Banking and Insurance Regulatory Commission didn't immediately respond to requests for comment.
Bond investor angst over Huarong is partly a reflection of the recent surge in missed payments by state-owned Chinese enterprises as authorities dial back support for weaker borrowers to reduce moral hazard. SOEs defaulted on a record 81.5 billion yuan ($12.4 billion) of domestic bonds last year, according to data compiled by Fitch Ratings, though most of these companies were affiliated with local or regional governments. Huarong's biggest shareholder is China's Ministry of Finance.
Read more:
Huarong Bond Spread Widens After Earnings Delay Halts Shares
China Huarong May Slim Down as Units' Credit Risks Rise: CICC
China Huarong Woes Weigh on Dollar Bonds of Other Asset Managers
Fitch Ratings has assigned Huarong an A rating, the third-highest investment grade, with a stable outlook. The assessment "reflects the government's ownership and very high level of control," Fitch said in its latest report on the company published in June 2020.
Huarong is one of four Chinese companies formed in 1999 to help clean up bad debt in the country's banking system, which had about 2.7 trillion yuan of non-performing loans as of Dec. 31. Huarong held a $2.5 billion initial share sale in 2015, giving it a market value of more than $15 billion.
The company is now worth about $5 billion after its shares sank for three straight years in Hong Kong. Huarong halted trading in its stock on April 1, and it may remain suspended until the company receives a sign-off from regulators on its overhaul plan, one of the people said.
Huarong's former chairman, Lai Xiaomin, was sentenced to death in January on bribery charges and later executed. He had expanded the company into areas including securities trading, trusts and other investments, deviating from the original mandate of disposing bad debt.
With assistance from Bloomberg