How U.S. Sanctions on Russian Aluminum Shook Markets: QuickTake
(Bloomberg) -- U.S. sanctions have brought one of Russia's industrial titans to its knees. Penalties on United Co. Rusal and its billionaire owner, Oleg Deripaska, have locked the aluminum producer out of the $140 billion global industry, and the impacts are being felt far and wide. Banks, soda-can makers and the world's biggest miners are among those starting to feel the pinch.
1. What's the reason for sanctions?
Rusal and seven other Deripaska-linked firms were the most prominent targets blacklisted by the U.S. on April 6 in response to Russia's "malign activity around the globe." The U.S. Office of Foreign Assets Control said Deripaska was sanctioned for reasons including the threatening the lives of business rivals, bribing government officials and links to organized crime. Deripaska has called the reasons for sanctions groundless and repeatedly denied any wrongdoing.
2. What do the sanctions mean for Deripaska?
They're designed to make it almost impossible for Deripaska's empire to do business in U.S. dollars, the de facto currency of global commodity markets, where Rusal is a major player in aluminum, and its feedstocks, alumina and bauxite.
The crown jewel in Deripaska's business empire, it produces about 6 percent of the world's aluminum and operates mines, smelters and refineries across the world from Guinea to Ireland, Russia to Jamaica. Deripaska, a former Red Army conscript with a physics degree, got his start in business scooping up newly issued worker shares in Siberian smelters in the 1990s and emerged victorious from the aluminum wars.
4. What have the sanctions done to Rusal and the supply chain?
The immediate impact was a huge selloff in shares and a spike in aluminum prices, but the wider impact is only now starting to unfurl on the global supply chain. Rusal is a central part of the global manufacturing process for aluminum -- which involves crushing bauxite ore into alumina, which is then heated to temperatures as high as 950 degrees Celsius to make aluminum. Now companies like Rio Tinto Group have to turn elsewhere in a market that was already in tight supply. Rusal's alumina is particularly integrated in the global supply chain because almost two-thirds of it is refined outside Russia, in places like Ireland and Jamaica.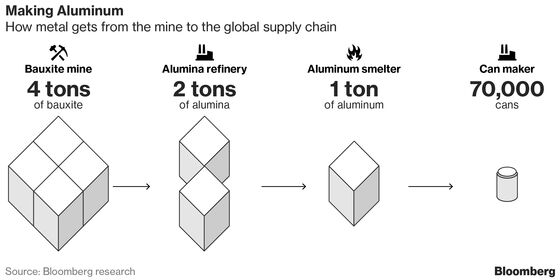 5. What's happened to aluminum prices?
They've gone crazy, jumping more than 20 percent since April 5 -- the day before the sanctions were announced -- and reaching the highest since 2011. And it's not just the final metal: Alumina prices surged by more than 25 percent. One India-based producer sold a shipment for $601 a metric ton, the highest price it's received in 12 years.
6. How have commodities exchanges reacted?
The London Metal Exchange, the global pricing benchmark for the aluminum industry, barred users from delivering into its global warehouse network any metal made by Rusal after sanctions were imposed, though it has a large volume of older Rusal stock in its depots. CME Group Inc., which offers an aluminum contract to help the U.S. market hedge physical delivery costs, blocked deliveries of Rusal metal into its warehouses. Rusal is still listed as a registered brand on the Shanghai Futures Exchange.
7. Who else does this affect?
The biggest traders and financiers of the global aluminum trade include Goldman Sachs Group Inc., JPMorgan Chase & Co., Glencore Plc, Trafigura Group, Castleton Commodities International LLC and Engelhart Commodities Trading Partners. They now have to navigate a gray area of U.S. sanctions: Though restrictions don't apply to metal produced by Rusal before the sanctions were imposed, those products have become less desirable in the U.S. and Europe as consumers try and cut their risk of exposure. That's put an estimated $3 billion of aluminum into limbo.
Transport, construction and packaging companies are among the major end users. It's the key material in airplanes made by Boeing Co. and Airbus SE. It's made inroads in the car industry in the last decade, with the top-selling Ford Motor Co. F-150 pickup truck defecting from steel several years ago. Many manufacturers are now looking for new supplies that don't include Rusal.
To contact the reporters on this story: Thomas Biesheuvel in London at tbiesheuvel@bloomberg.net;Mark Burton in London at mburton51@bloomberg.net
To contact the editors responsible for this story: Lynn Thomasson at lthomasson@bloomberg.net, Laurence Arnold, Nicholas Larkin