Hong Kong Tycoons, Casino Giants Find Respite in Stock Rebound
(Bloomberg) -- Shares of Macau casinos and Hong Kong developers rebounded on Tuesday as investors weighed whether recent sharp sell-downs have priced in regulatory risks.
Bloomberg's gauge of casino stocks advanced 3.6% following a rout last week that wiped out nearly $20 billion in market value from the gaming enclave's biggest operators. Meanwhile, the Hang Seng Property Index advanced 3% after a $6.7 billion hit among Hong Kong's four top property giants on Monday. 
Glimmers of hope emerged for the two battered sectors, even as analysts say that any sustained recovery remains uncertain amid Beijing's campaign to tighten oversight of private enterprise. 
Officials indicated they are open to considering opinions on proposed revisions to Macau's casino laws while property developers disputed a report of increased pressure from the Chinese government.
"After an onslaught of policy announcements, regulators may take a breather given the impact on markets, providing a window for tactical trading opportunities," said Bloomberg Intelligence strategist Marvin Chen. Despite the stabilization, Chen said he remains on guard for further regulatory risks.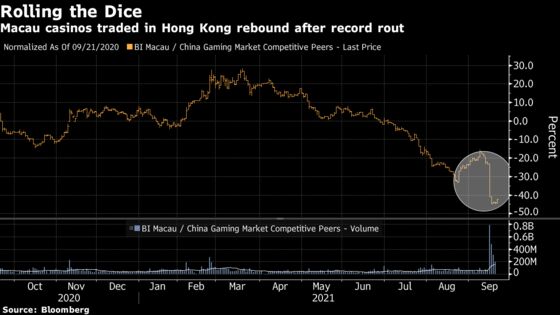 The consultation period for Macau's casino law is set to end on Oct. 29. Before then, there will four meetings to solicit views from the public on the revisions. The news sent shares of Sands China Ltd. and Galaxy Entertainment Group up by at least 3.5%. MGM China Holdings Ltd. rallied 7.1%. 
Hong Kong's leader Carrie Lam reiterated at a regular press briefing on Tuesday that her government had the legal ability to "take over" private land from developers to build public housing. But she also said companies were "willing to cooperate" with policies to help with the livelihood of the people.
Lam is set to deliver her 2021 policy address on Oct. 6, which may offer more cues for investors in property stocks.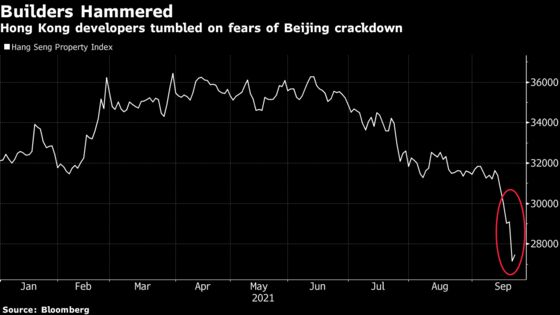 Lee Shau Kee's Henderson Land Development Co. climbed 2.1% on Tuesday. The Cheng family's New World Development Ltd. saw a gain of 1.8%, Li Ka-shing's CK Asset Holdings Ltd. rose 4.1% and Sun Hung Kai Properties Ltd., owned by the Kwok family, also advanced by 1.7%.
Holidays this week across much of Asia is also likely adding to the volatility in Hong Kong-listed stocks. China's equities markets are closed until Wednesday, when Hong Kong's will break.