Hong Kong Tycoon Jimmy Lai Denied Bail in Ongoing Crack Down
(Bloomberg) -- Jimmy Lai was denied bail on new charges related to an August arrest under a China-drafted security law, potentially keeping the Next Digital Ltd. founder behind bars for months as he fights the allegations.
Lai, 73, was ordered to remain in custody pending further proceedings, according to Mark Simon, an aide to the media tycoon. Two other Next Media executives who were charged alongside Lai were released on bail, Simon said. Judge Victor So Wai-tak, of the West Kowloon Magistrates' Courts, adjourned the case until April 16, Next Media's Apple Daily newspaper reported.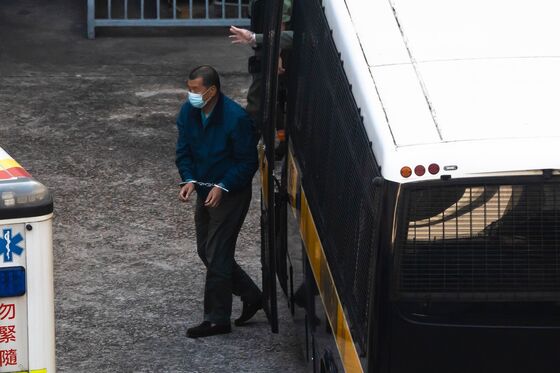 The ruling means Lai, whose support for Hong Kong democracy has caused China to dub him a "black hand" working for foreign forces, could remain in jail for the foreseeable future. Lai will seek to appeal the bail decision, Simon said.
Lai wasn't immediately charged with potentially more serious allegations of foreign collusion under the security law, which in August prompted his arrest and a dramatic raid of the Apple Daily's newsroom. In an interview with Bloomberg News on Tuesday, Lai said he was "preparing for the worst."
"The more danger I am in, the more effectively I can draw the attention of the world to Hong Kong," he said.
Lai and his fellow executives were charged with violating the lease terms of the office park housing Next Digital's headquarters by basing a family office there to manage his personal finances. Simon said the charges appeared to be an attempt to criminalize a commercial dispute.
The judge who presided over Lai's hearing, So, is one of six designated by Chief Executive Carrie Lam to handle national security cases, under a provision of the law that rights lawyers said undermines judicial independence in the former British colony. His arrest comes a day after another prominent activist, Joshua Wong, was sentenced to more than a year in prison for leading a protest outside of police headquarters last year.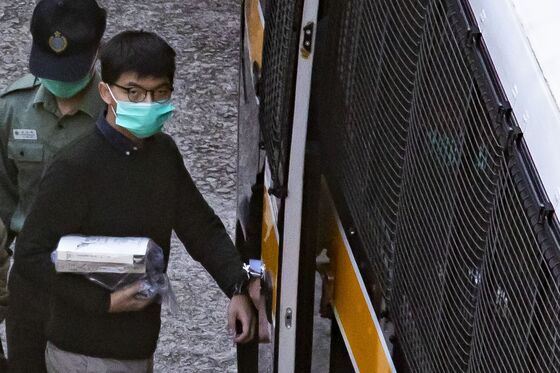 China's crackdown on Hong Kong dissent has prompted international condemnation, and the U.S. has hit Lam and several other officials responsible for the city with sanctions. Earlier this week, Lam said she was collecting "piles of cash" at home because the financial measures were barring her from basic banking services.
Hong Kong authorities have moved quickly to employ the sweeping legislation, which carries sentences as long as life in prison, since it was imposed by China without local debate in June. The police unit tasked with enforcing the measure has so far arrested 32 people, most for allegations related to slogans, banners or internet posts deemed to be secessionist or seditious.
Lai said Tuesday that he had no intention to leave Hong Kong and that police had already confiscated his passport. The security law allows courts to deny bail before trial because defendants may "continue to commit acts endangering national security," a power that could clash with the presumption of innocence in the city's Common Law tradition.
Shares of Next Digital were halted from trading in Hong Kong on Thursday. They've been on a roller-coaster ride in 2020, hitting record lows and 12-year highs. They last traded at HK$0.23, down 10% for the year.
Separately, a sedition case against another Hong Kong activist, Tam Tak-chi, was transferred Tuesday to a designated security law judge, broadcaster Now TV reported, even though he hasn't been charged under the measure. The ruling suggests that Hong Kong authorities may seek to apply the law more broadly than the four activities criminalized by the law: secession, subversion, terrorism and foreign collusion.
And former Hong Kong legislator Ted Hui, among those arrested last month in connection with a disruptive protest in the legislative chamber in May, declared himself to be in exile while traveling in Denmark this week. In a statement Thursday on his Facebook page, Hui said he had resigned from his political party and would focus on broadening international support for the embattled pro-democracy movement.