Hedge Funds Pivot Back to Stocks, Raising Leverage From 2018 Low
Hedge Funds Pivot Back to Stocks, Raising Leverage From 2018 Low
(Bloomberg) -- The smart money is finally warming up to U.S. equities after turning defensive in the past few months.
Hedge funds' gross leverage, a measure of the industry's risk appetite, climbed 2.5 percentage points to 234.5 percent as of Nov. 29 from a one-year low reached 10 days earlier, client data compiled by Goldman Sachs showed. Similarly, JPMorgan's hedge fund clients last week raised their equity exposure at one of the fastest rates this year.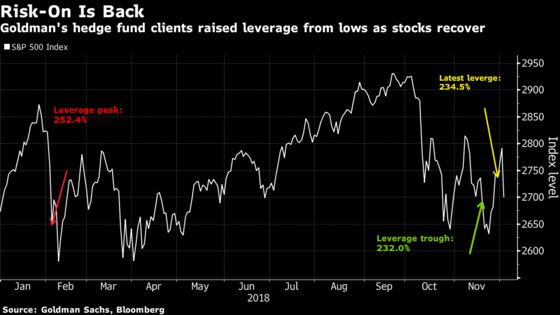 The improving sentiment coincided with a rebound in stocks that took the S&P 500 to the best week since 2011 and marked a departure from earlier patterns, when market recoveries were met by persistent selling. While it remains to be seen how the budding optimism fared after Wednesday's sell-off, the data provide a lens into the psychology of an elite group of investors.
And the message is hardly clear-cut for the market. Bulls including Marko Kolanovic, a strategist at JPMorgan, have cited low hedge fund exposure as a potential catalyst for a year-end rally, and this can be viewed as evidence in support of that call. Goldman's data showed that even after the increase, hedge fund leverage remains 8.3 percentage points below the 12-month average. Should the risk-on mode last, that would provide additional buying power for stocks.
For skeptics such as Renaissance Macro Research's Jeff deGraaf, the buying can be framed as a sign that investor capitulation, a condition that usually sets the stage for a sustained recovery, is still missing. The S&P 500 rallied almost 5 percent last week amid a less aggressive stance from Federal Reserve Chairman Jerome Powell and hopes on U.S.-China trade, only to drop more than 3 percent Wednesday.
"Enough optimism and long positioning was done in the last week around seasonality, Powell and trade that the market remains a fair distance away from an oversold level," said deGraaf, co-founder of RenMac. "That leaves us with continued complacency, some urgency on the part of longs but from something less than a deep oversold condition."
Hedge fund managers were net buyers of tech stocks for a second week after having dumped the industry since the start of the quarter, Goldman data showed.
JPMorgan's fund clients last week scooped up industrial and consumer discretionary shares, with short covering running near the highest level this year.
To contact the reporters on this story: Lu Wang in New York at lwang8@bloomberg.net;Melissa Karsh in New York at mkarsh@bloomberg.net
To contact the editors responsible for this story: Courtney Dentch at cdentch1@bloomberg.net, Richard Richtmyer, Dave Liedtka