Hedge Fund Fever Fuels Surging Growth at Brazil Asset Manager
Hedge Fund Fever Fuels Surging Growth at Brazil Asset Manager
(Bloomberg) -- Few firms have benefited as much from Brazil's hedge fund renaissance as Kinea Investimentos Ltda.
Assets under management at Kinea, which is owned by Itau Unibanco Holding SA, have surged fivefold since the end of 2016, to 62.1 billion reais ($16 billion) as of June. The firm's hedge fund division propelled much of that growth after Kinea brought in new blood to overhaul operations in 2015. The Kinea Chronos FIM hedge fund ranked No. 1 out of 151 similar funds for net inflows in the first six months of this year, according to data compiled by Bloomberg.
"We still have the capacity to manage more than what's invested in the funds right now, so we could still grow more," Marcio Verri, Kinea's chief executive officer, said in an interview at the company's Sao Paulo headquarters. Inflows in pension, infrastructure and corporate credit funds added to the growth, said Verri, a BankBoston veteran.
Brazil's hedge fund industry is in the midst of a boom after a fourth consecutive year of net inflows and 170 billion reais in new money since 2016.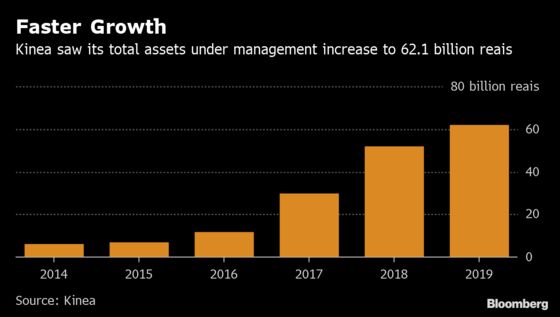 It took Kinea more than a decade before finally taking off. The firm was created in 2007, when the two brothers running Itau, Roberto and Alfredo Setubal, decided to take a chance on an idea pitched by Verri: launch a new asset-management firm in which the bank would have a 80% stake but that would be independently run, with its partners owning 20%.
Verri's sales pitch was that Brazil would eventually move to lower benchmark rates and get inflation under control, persuading Brazilians to flock from government bonds and low-yielding savings accounts to all types of funds, from hedge funds to private equity. And so Kinea -- which derives its name from the word kinetics -- was born.
But it was only recently that his initial vision started coming true, after the country endured its worst recession in history. Now Brazil has its lowest benchmark rate ever, and it's set to fall even further in coming months with inflation below the government's target and a sweeping pension overhaul making its way through Congress. At the same time, digital distribution platforms have popularized more complex financial products, giving the firms that sell them a boost.
"With inflation under control, you have to have low overnight rates, which make investors start looking for products that can offer real gains in the longer term," Verri said. "Those are the kind of products we sell."
Kinea is lining up new products to cater to those hunting for yield, including equity-focused funds in August. It's also increasing its hedge funds' investments outside of Brazil, giving them more capacity to grow and a smaller correlation to local assets. Kinea will add as many as four people by year-end to its current headcount of 76, Verri said. The firm employed 42 two years ago.
The Chronos fund's total return is 73% since its inception in June 2015, compared with the 48% return of the interbank rate known as DI, the fund's benchmark. Through June, it posted positive returns in 42 of the 49 months since the fund was created -- the type of low volatility that attracts investors dipping their toes in the hedge fund world.
"People think asset management is like being an artist and painting a picture, but it's much closer to painting walls everyday," Verri said. "It's a lot of work, a lot of processes you have to follow, rather then simply being brilliant and doing it from inspiration."
--With assistance from Shin Pei.
To contact the reporters on this story: Felipe Marques in Sao Paulo at fmarques10@bloomberg.net;Vinícius Andrade in São Paulo at vandrade3@bloomberg.net
To contact the editors responsible for this story: Michael J. Moore at mmoore55@bloomberg.net, Steve Dickson, Daniel Taub