Hedge Funds Slashing Equity Exposure at Fastest Pace Since 2014
Hedge Fund Favorites Are Telltale Leaders In Broad Stock Selloff
(Bloomberg) -- Hedge funds are slashing their stock exposure at the fastest rate in more than six years as a wave of volatility tied to some of their most-prominent bets forced a retreat from the market.
Fund managers covered their money-losing short sales while trimming bullish bets for a fourth straight session Tuesday. Over that stretch, their total outflows from the market reached the highest level since October 2014, data compiled by Goldman Sachs Group Inc.'s prime-brokerage unit show.
Whether it's forced selling to cover losses on short sales or simply the fate of high-beta bets in a rout, stocks that hedge funds have shown enthusiasm for in the past led the way down Wednesday. The Goldman Sachs Hedge Industry VIP ETF (ticker GVIP), tracking their most-popular stocks, tumbled 4.3% for the worst day since September. All but one of its members ended in the red. Caesars Entertainment Inc., which owns a resort chain, plunged 10%, and Carvana Co., an online retailer of used vehicles, sank more than 8%.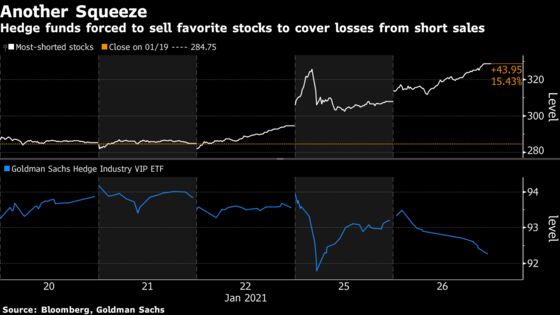 In addition to names tied directly to hedge funds, Wednesday's plunge widened to encompass stocks in the broader category of "recent winners." First among those was the ARK Innovation ETF (ticker ARKK), which surged about 150% last year with wagers on momentum-driven tech stocks. The fund managed by Cathie Wood dropped 2.5% after a 3.3% retreat from Tuesday. Another winner turned loser was Invesco Solar ETF (ticker TAN), which slipped 6%. It nearly tripled in the second half of 2020.
"If you're getting killed on your shorts and need to close those out and reduce overall exposure, you're going to go first to big winners that have done well," said George Pearkes, global macro strategist at Bespoke Investment Group LLC.
Hedge funds are under fire as retail traders whipped up in chat rooms charge into heavily shorted names, fueling squeezes in stocks from GameStop Corp. to AMC Entertainment Holdings Inc. Such a squeeze has prompted money managers to cut back risk broadly.
At Morgan Stanley, Monday and Tuesday ranked among the top five degrossing days for its hedge fund clients over the past decade, according to data from the firm's prime brokerage unit.
Most-shorted shares backfired again Wednesday, with a Goldman Sachs basket of such stocks jumping 9%. The group has rallied more than 50% in January, poised for deliver the worst month for bears on record.
The broad market, however, was bleeding. The S&P 500 dropped 2.6% on Wednesday for its worst day since October. Tech giants, which hedge funds had rushed to buy before their earnings, wavered. Apple Inc. snapped a six-day winning streak. Tesla Inc. dropped 2.1%, trimming its 2021 gain to 22%.
As market volatility erupted, those betting on calm got a reckoning. The Cboe Volatility Index, a gauge of option cost tied to the S&P 500, surged the most since February 2018, bad news for investors who had piled into the short-volatility trade. Large speculators, mostly hedge funds, last week raised their bearish positions on VIX futures contracts to a 11-month high.
To Michael Purves, a strategist and founder of Tallbacken Capital Advisors, a key question for investors is whether risk managers at hedge funds will start to take a more dominant role, forcing a further reduction in both the long and short side of their books.
"Obviously, many stocks, on both the long and short side, are 'hedge fund hotels' -- so one hedge fund getting squeezed can drive another hedge fund to close out their shorts (or trigger stop losses on the long side)," Purves wrote in a note. "Generally, deleveraging processes are not pleasant."