Goldman Hunts for Next 175,000% Stock Rally With New Active ETF
(Bloomberg) -- Goldman Sachs Asset Management is on the hunt for the Faangs of the future with its latest exchange-traded fund.
The actively managed Goldman Sachs Future Tech Leaders Equity ETF (ticker GTEK) launches Thursday, holding technology companies with market capitalizations under $100 billion from both developed and emerging nations.
Goldman itself intends to invest alongside clients, according to a press release.
With GTEK, Goldman is trying to identify the next tech moonshots to stay on "the right side of disruption and innovation," according to Katie Koch. 
"It's going to be another company's chance to be up another 175,000% since its IPO," said Koch, GSAM's co-head of fundamental equities. "We're working hard at finding those companies."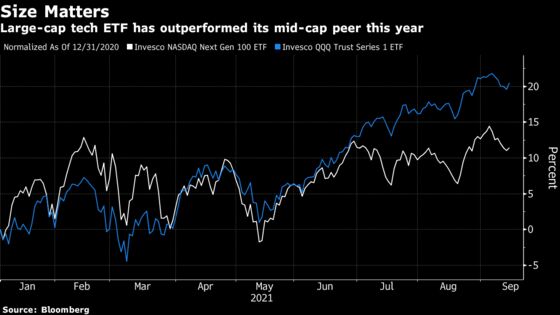 Big tech firms such as Facebook Inc., Apple Inc. and Google's parent Alphabet Inc. have long dominated the stock market, but their influence soared to new highs during the pandemic amid widespread lockdowns and the work-from-home era. The might of the mega caps remains intact this year even as higher inflation renews concerns over their lofty valuations.
GTEK is launching into a market where bigger still seems to be better. The $195 billion Invesco QQQ Trust Series 1 ETF (QQQ) -- which tracks the large-cap Nasdaq 100 -- has surged over 20% so far this year. By comparison, the $1.2 billion Invesco NASDAQ Next Gen 100 ETF (QQQJ) -- populated by mid-cap tech stocks -- has gained about 11% over that stretch.