Gluten-Free Is Mainstream Now. Just Look at Siete's $1 Billion Ambition
(Bloomberg) -- Not many national food brands can credit lupus in their origin story. But for members of the Garza family in South Texas, daughter Veronica's diagnosis with the autoimmune disease is what jumpstarted their interest in the paleo diet and led to the launch of their expanding grain-free snack line.
In a few years, it has evolved from a weekend-only operation into Siete Family Foods Inc., a budding food empire selling premium, gluten-free Mexican food (a 5-ounce bag of cassava-flour tortilla chips sells at grocery stores for about $4 or $5). The company, founded in 2014, generated $150 million in sales in 2020 and expects to increase that by about 30% this year, continuing to take advantage of the boom in gluten-free food.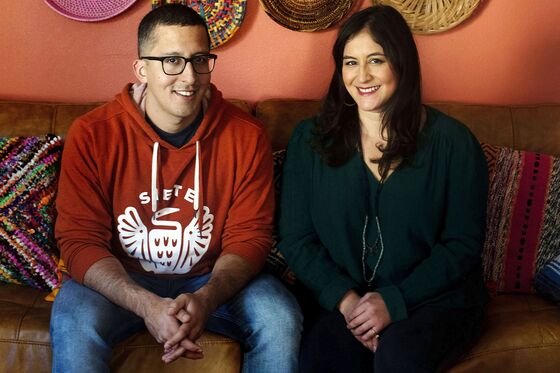 The category is no longer a niche offering just for people with celiac disease who struggle to digest the gluten found in grains like wheat. In fact, "gluten-free" has gone so mainstream thanks to its inclusion in the healthy living movement that nearly a quarter of Americans who bake frequently bought gluten-free bread or muffin mix last year, according to researcher Freedonia Group.
Investors have noticed, with the company receiving $90 million in funding two years ago from Stripes Group, which has taken past stakes in Grubhub and Blue Apron. Siete has aspirations to become a $1 billion brand. In the first quarter alone, it debuted 10 products, including churro strips. Next up: red and green salsas.
Bloomberg recently spoke with co-founders Veronica, Siete's president and chief innovation officer, and her brother Miguel, chief executive officer, on the brand's conception, its expanded product lines and global ambitions.
Veronica, you started hand-making grain-free tortillas for your own dietary needs. Then word spread at the CrossFit gym your family managed. What happened next?
I had a full time job, but on the side, this became a business that wasn't really a business. I was just making batches and batches of tortillas and offering them up to people who wanted to try them.
Your brother, Miguel, was really the person who convinced you to try to turn your tortillas into something. You were hesitant, so how did he persuade you?
The only reason I said yes was because my brother actually told me, 'If you don't do this, one day you might see somebody else put a product like this on the shelf, and you're going to be really upset that it wasn't you.'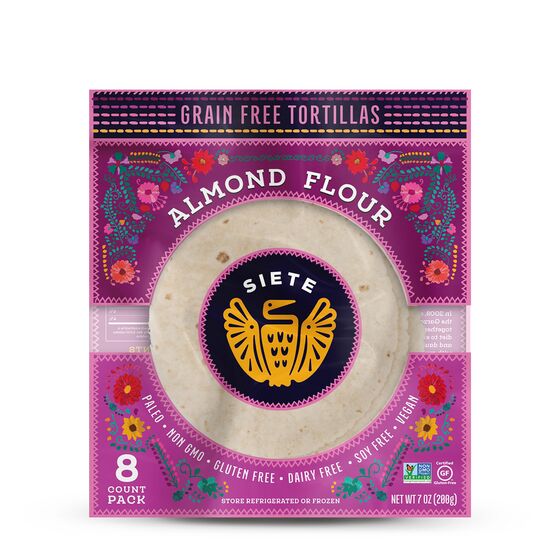 Then you got your first break by getting your tortillas into Wheatsville, a food co-op in Austin, Texas. How did you convince them, especially as a newcomer?
My brother made the buyer taste the tortilla right in front of us. We had warmed it up ahead of time for him. He tried them and liked them. On the spot, he said 'we'll take these.'
We found a commercial kitchen that would allow us to rent by the hour on the weekend. We would travel up every weekend from Laredo to make batches of tortillas by hand and put them on the shelf every Sunday.
From there, the company took off. Siete has continued to grow over the past year, but didn't see the kind of skyrocketing sales that many food brands experienced during the pandemic. Why not, Miguel? 
I don't believe that we saw the same stockpiling benefit that other packaged food companies have talked about, the bigger names. We had exposure to different channels that had decreases in foot traffic. Heading into 2020, we were growing really aggressively. And now that we're in the middle of 2021, we've continued to maintain those growth rates.
Miguel, the company has accepted outside funding, which means your investors will want to cash out at some point. Is there an initial public offering in Siete's future?
I'm driven, and my family is driven by making sure that the company has the resources that it needs to meet its full potential. I don't necessarily know today the path forward to do that.
Now you're in 16,000 locations with offerings ranging from salty snacks and cookies to seasoning and sauces. Your products recently debuted in Canada. But Miguel, what really makes you think Siete could be a $1 billion brand?
We're obviously not there yet, but we do think that our product portfolio allows us to enter into new markets and be a brand that can solve problems for the consumer.
Editor's note: This interview has been edited and condensed.