From Printing Steaks to Raising Cash for Cultivated Beef Rollout
From Printing Steaks to Raising Cash for Cultivated Beef Rollout
The Israeli company has completed a $105 million Series B funding round from investors led by Growth Fund of L Catterton and DisruptAD, it said in an emailed statement on Wednesday. The money will be used to commercialize its cultivated beef steaks, scale up manufacturing and expand the product range.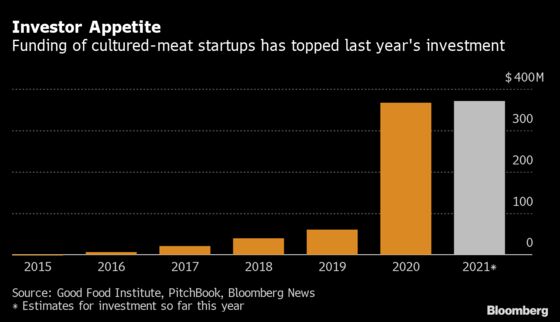 The funding is one of the biggest financing rounds for the nascent cellular agriculture industry, which grows proteins like beef and chicken from cells instead of slaughtering live animals. There are now more than 70 cellular meat companies globally, with consultants Kearney predicting the industry making up as much as 35% of the $1.8 trillion global meat market by 2040.
"We continue to very aggressively implement our cost reduction plan," Aleph Farms Chief Executive Officer Didier Toubia said in an interview. The company aims to reach price parity with conventional meat within five years of the initial market launch, he said.
Food and meat companies Thai Union Group, BRF SA and CJ CheilJedang Corp. also participated in the fundraising round, as did existing investors such as Cargill Inc. The fresh money brings the company's total funding to more than $118 million, making Aleph Farms the third most funded cultured meat startup, according to researcher Dealroom.
Aleph Farms has attracted attention in recent years by cultivating a ribeye steak using 3D bio-printing, hosting Israel's former Prime Minister Benjamin Netanyahu for a tasting last year and creating a cow muscle tissue on a space station. It has partnerships with Brazil's BRF and Japan's Mitsubishi Corp. to bring cultivated meat to their home markets.
The company plans to complete its pilot factory by the end of this year and wants to first target sales to restaurants. Aleph Farms is in talks with regulators in several countries to market its products. Its partnership with Abu Dhabi-based DisruptAD may result in a factory in the emirate to supply cultivated meat products across the United Arab Emirates and Gulf region, the company said.
"Food security should be a critical issue for collaboration, especially in the Middle East and Asia," Toubia said. "We see Aleph Farms and cultivated meat as a potential cornerstone of more food security in those two regions."