Foreigners Return to Japan Stocks, Buy Most in More Than a Year
Foreigners Return to Japan Stocks, Buy Most in More Than a Year
(Bloomberg) -- Foreigners rushed back to Japanese equities in the first week of November for their biggest spending spree in more than a year, hinting at odds of greater inflows.
Overseas investors bought 1.1 trillion yen ($10.4 billion) worth of Japanese equities in cash and futures contracts in the week ended Nov. 6, the most since October last year, according to data from the Japan Exchange Group. The large purchases reduced the net outflow this year to 8.7 trillion yen.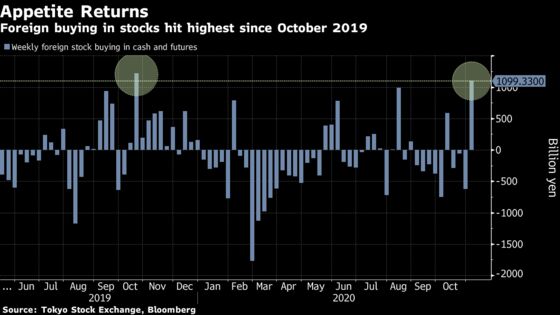 Toru Ibayashi, the head of Japanese equities research at UBS Wealth Management, sees room for more foreign buying worth "at least 5 trillion yen," following the selloff earlier this year. Better-than-expected earnings for the September quarter and completion of the U.S. presidential vote are reasons to reevaluate Japan, he said.
The Topix has wiped out its loss for the year, helped by hopes for a Covid-19 vaccine and a sustained recovery in earnings. The Nikkei 225 Stock Average is trading above the key 25,000 mark and continues to hold at its highest level since 1991.
"Earnings clearly hit a bottom in the March quarter and showed modest recovery in June, and now they're showing a very strong recovery in the September quarter," Ibayashi said in an interview. "Maybe this was unexpected for international investors."
Ibayashi views Joe Biden's presumptive U.S. presidency as "positive" for Japanese equities, saying he would be "better" for U.S.-China relations and global trade. "That's where Japanese companies can benefit and that may be another reason why international investors are turning their eyes to Japan and keep on buying," he said.