Foreigners Flood Canada's Stock Market Amid Value Rotation
Foreigners Flood Canada's Stock Market Amid Value Rotation
(Bloomberg) -- Foreign investors are piling back into Canada's $3.2 trillion stock market after a pandemic-driven exodus.
The nation's equities are on pace to record the highest foreign inflows since 2017, adding $22.7 billion as of the end of April, according to Bloomberg calculations based on Statistics Canada data. Overseas investors were net sellers in the past two years, partly because of a lack of large-cap technology stocks, the early winners of the Covid-19 pandemic.
The S&P/TSX Composite Index has rallied nearly 16% this year, outpacing the S&P 500 Index's 12% rise, thanks to its large weighting in cyclical and value stocks. Financial firms, materials stocks and oil and gas companies -- all beneficiaries of accelerating economic growth -- make up 56% of the Canadian benchmark.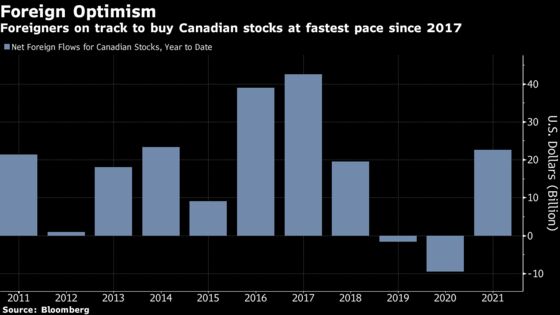 The TSX is traditionally a destination for investors looking for a higher risk-reward ratio, with energy and mining stocks making up about a quarter of the index. Rising commodity prices, a strong earnings outlook and an accelerating vaccine rollout have boosted investor confidence. The economy expanded at a 5.6% annualized rate in the first quarter, despite the headwind of coronavirus containment measures.
A rising Canadian dollar has also helped encourage capital flows from foreign investors. The loonie is the top-performing currency against the U.S. dollar among its G10 peers this year, rising more than 3%, partly because of higher prices for oil, lumber and other commodities the nation produces.