Family Builds $3.8 Billion Fortune, One Pint of Blood at a Time
Spain's Grifols family has prospered with storefront collection centers across U.S.  
(Bloomberg) -- Harry Lee Armstrong is almost broke. But he's found a quick way to make a little cash.
Laid off from his construction job, Armstrong has driven to a storefront donation center where a valuable global commodity — the golden plasma in human blood — is harvested seven days a week.
Wedged between a dental office and a liquor store in a Pennsylvania strip mall, the place hardly looks like a cogwheel of international commerce.
But that's precisely what it is: part of a far-flung corporation that's raking in hundreds of millions a year thanks in large part to hard-pressed people like Armstrong.
In fact, the blood plasma business is so good these days that the family behind this company, Barcelona-based Grifols SA, has amassed a $3.8 billion fortune, according to calculations by Bloomberg. The Grifols family declined to comment.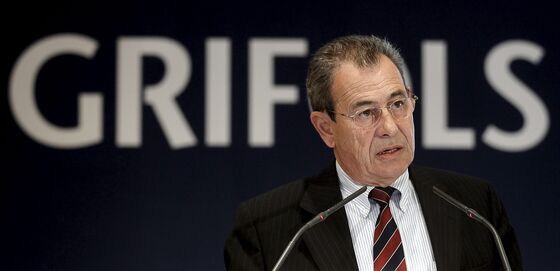 Over the past decade, as international demand for plasma has soared and many Americans have struggled to make ends meet, plasma collection in the U.S. has more than doubled, according to the Plasma Protein Therapeutics Association, which represents the industry. Grifols is riding the wave. The company's shares have climbed 37% in the past year, almost four times more than Spain's IBEX 35 Index.
After a series of acquisitions over the past two decades, Grifols runs 220 collection centers in at least 32 states, a quarter of the U.S. total. The company posted net income of 596.6 million euros ($653 million) for 2018. More than three-quarters of its 4.49 billion euros of revenue was generated by the company's bioscience division, which runs donation centers in the U.S. and processes the collected plasma into drugs for sale.
For millions of people, many of them poor or underemployed, cash in the hand is worth a needle in the arm. On this gray December Monday, Armstrong has gotten $70 for as much as a pint and a half of plasma.
"We gotta pay the bills, eat," said Armstrong, leaning against his car in the parking lot outside the Grifols center.
Of his day's plasma pay, he said: "It'll put gas in the car."
Plasma is the liquid portion of blood, and it has a wide variety of medical uses. Drugs derived from plasma are used for treating ailments such as hemophilia and are showing promise in slowing the progression of Alzheimer's. It's also a big business, and at times a contentious one. Doctors agree that donating plasma is safe, but how often is too often is a matter of debate.
At issue, too, is whether companies should pay donors, or "plassers," as they're known in the trade. The U.S, Germany and China are among the only countries where payment is legal.
Grifols and several other companies have built what analysts characterize as a global oligopoly. Central to the business model is the idea that encouraging people to sell plasma is perfectly fine. Donors want the money, the argument goes, and their plasma ultimately leads to life-saving products for everyone.
Still, studies have found that plasma collection centers are disproportionately located in low-income areas. Critics say the industry is taking advantage of the poor.
"It's intentional," said Heather Olsen, a researcher on a Case Western Reserve University study of the plasma business. "There's nothing happenstance happening in this industry."
Some donors might agree. But many of them just need the money.
On a December day, business is steady at the collection center in suburban Fairless Hills, north of Philadelphia. A banner outside urges people to "join our plasma donor community." Armstrong found the Grifols center by word of mouth. Another one closer to his home that's run by one of Grifols' competitors, CSL Ltd. of Australia, was packed.
People trickle in and out. A forklift operator donates weekly to earn fun money. A retired painter is supplementing his Social Security.
Grifols donor Hunter Tini said in January he sells his plasma on lunch breaks, often passing the time by listening to audio books like "Lord of the Rings." He's grappling with $80,000 in student debt, so the extra money comes in handy, he said.
Emiliano Montero, 22, said he recently landed a position paying $11 an hour after years of doing odd jobs under the table. Now, he's no longer eligible for government food assistance, so he's plassing, too. He said he's living out of his Honda Civic while taking care of his sisters. Montero said he doesn't mention his plasma sideline to friends.
"It just hurts my pride a bit,'' he said. "I guess you gotta do whatever you gotta do.''
Founded in Barcelona in 1940 by brothers Jose Antonio and Victor Grifols Lucas, Laboratorios Grifols began developing vaccines and blood transfusion technology among a population impoverished by civil war and internationally isolated by the Franco regime.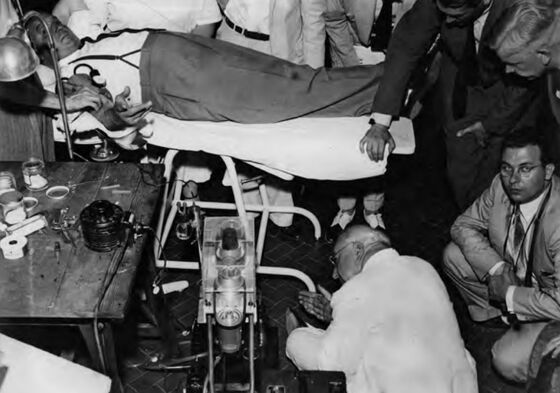 Jose Antonio pioneered the plasmapheresis technique in 1950. By separating out the plasma, the part of the blood rich in antibodies and proteins in which white and red cells float, and re-infusing the red blood cells, Grifols found that donors could give more frequently and with no side effects.
Today, Grifols is among three companies that dominate the global plasma market. It remains a family business, run by co-chief executive officers Raimon Grifols Roura, the son of co-founder Victor, and his nephew, Victor Grifols Deu.
It also has remained loyal to the city of its inception. During a rare public appearance in 2014, Grifols Chairman Victor Grifols Roura expressed his support for Catalan independence, Reuters reported at the time. When the Catalan constitutional crisis peaked in 2017, Grifols Roura kept his company headquartered in Barcelona, as at least six other major Spanish companies, fearful of a unilateral independence declaration, moved out.
The Grifols family fortune is shared between the children of co-founders Victor and Jose Antonio. Nuria Roura Carreras, Victor's widow, also has substantial holdings and the highest individual net worth in the family: more than $900 million.
Grifols acknowledges its reliance on low-income Americans. In its 2018 annual report, the company flagged what might seem like an unusual risk for a business: the people it depends on might actually become better off financially.
"Improvements in socioeconomic conditions in the areas in which our and our suppliers' plasma collection centers are located could reduce the attractiveness of financial incentives for potential donors," the company wrote.
--With assistance from Pierre Paulden, Steven Crabill and Tom Maloney.
To contact the editor responsible for this story: David Gillen at dgillen3@bloomberg.net, Peter Eichenbaum