European Tech's 'Eye-Watering' Valuations Raise Bubble Fear
European Tech's 'Eye-Watering' Valuations Raise Bubble Fear
(Bloomberg) -- European startups are raising more money than ever before, producing a class of tech companies with valuations comparable to peers in the U.S. and Asia. But after a record-breaking start to the year, even some of the industry's biggest cheerleaders are starting to worry that the momentum isn't sustainable.
Virtual events business Hopin more than doubled its valuation in four months, raising cash at $5.65 billion in March. The continent's biggest startup, Klarna Bank AB, reached $45.6 billion in its latest funding round, more than four-times higher than last year. U.K. financial technology startup Revolut Ltd. is weighing a round that would raise new funds at a more-than $20 billion value, more than triple its $5.5 billion valuation in 2020, people familiar with the matter have said.
There's a "little bit of a tech bubble," Martin Davis, the chief executive officer of London-listed venture capital firm Draper Esprit Plc, said in an interview. "That's not going to last forever."
The value of Draper's portfolio jumped 51% in the past 12 months through March, compared to 10% in the prior year. A consumer shift online during the Covid-19 pandemic combined with low interest rates pushed investors further toward tech in search of attractive returns.
"Some of these valuations are absolutely eye-watering. That has been the case in the U.S. for a number of years and it's playing catch-up here," said Erin Platts, head of Europe, Middle East and Africa at Silicon Valley Bank. "The velocity is what scares me a bit, even more so than some of the numbers."
High valuations from private investors don't necessarily translate to the public market, and a number of initial public offerings worldwide have priced below some of their loftiest estimates. Prior to the shares' collapse this week, Didi Global Inc., a Chinese ride-hailing company backed by SoftBank Group Corp., was valued at about $68 billion after its first day of U.S. trading, well below the $100 billion previously forecast.
U.K. cybersecurity company Darktrace Inc.'s shares began trading with a market value of 1.7 billion pounds ($2.3 billion), about half the valuation people familiar with the share sale had been touting weeks before. Food-delivery company Deliveroo Plc dropped 26% in its first day of trading in London in March.
Read More: Investors Are Pushing Back Against Lofty Valuations: ECM Watch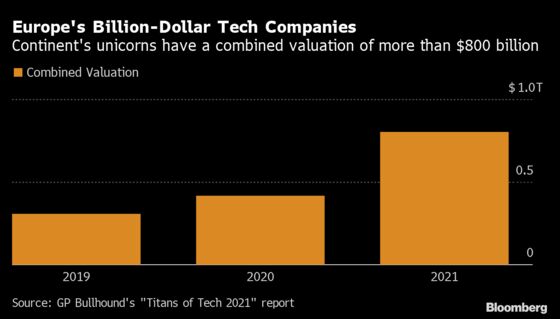 That's not rattling stalwart investors, though.
"The valuations are definitely more at the top than at the bottom, I think most people would agree on that," said Georgi Ganev, chief executive officer of Swedish investment firm Kinnevik AB. "We, however, think the consumer behaviors we see now, they're here to stay."
The European tech sector now has 166 "unicorns," or companies valued at more than $1 billion, with a combined worth of more than $800 billion, according to a June report from investment firm GP Bullhound. Half of that value was created just this past year.
Prominent funds are taking advantage of the interest in Europe by raising new investment vehicles, including dedicated pools of capital for the region. It doesn't hurt that some well-known startups are plotting exits that show a path for investors to cash in, such as digital-payments provider Wise's plans for a direct listing in London and acquisitions, such as Etsy Inc.'s takeover of second-hand fashion app, Depop.
"There's much more competition, and that's pushing prices up," said Manish Madhvani, managing partner and co-founder at GP Bullhound. "If anything, this huge injection of capital is going to fuel even greater growth. We've just to go make sure it's spent wisely now."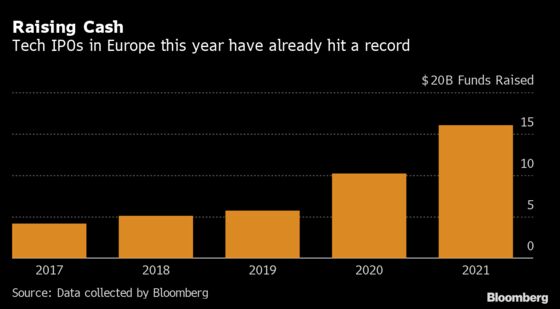 Giant funding rounds have been matched by venture investors cashing in via record dealmaking.
European tech listings in the first half of the year have already broken records, with tech companies raising more funds in 2021 so far than in any other year since at least 2009, according to data compiled by Bloomberg. There are more IPOs for technology and internet companies, too, with more than 75 from Europe beginning to trade this year, compared to 45 in all of 2020.
The money spent on acquisitions has doubled for tech targets in Europe from the same period a year ago, putting 2021 on track to be the biggest year for tech and internet deals in more than two decades, the data show.
Raising money can bring its own challenges. Inexperienced founders may not be prepared for the rapid growth that comes with a large check. And high valuations can limit exit options and interest from investors, who often expect a 10-times return or more on successful startup bets, said Rand Gerges-Yammine, a research associate at London's Imperial College Business School.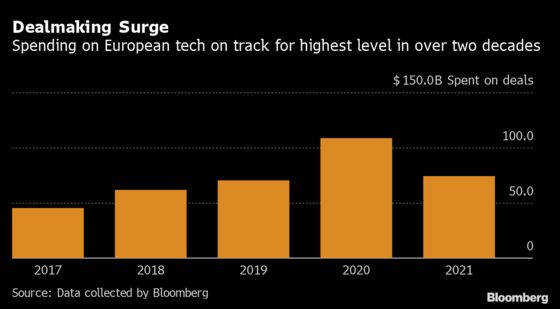 But concerns about fast growth are nothing new, and the industry has produced good returns for decades, said Lars Jornow, a partner at Swedish venture capital firm EQT Ventures. Angel investors who put cash in the right company can see "extremely fast valuation upticks," he said.
"Four or five years ago, people said valuations were so high. I'm very bullish. The tech markets will continue to produce," Jornow said. "It may be that the valuations will be adjusted at some point, but tech has been in a bull market for two decades."