European Stocks Hover Below Record as Virus, Afghanistan Weigh
European Stocks Hover Below Record as Virus, Afghanistan Weigh
(Bloomberg) -- European equities struggled to regain traction after a lengthy rally was halted by Covid-19 variant worries and geopolitical concerns prompted by the Taliban's takeover of Afghanistan.
The Stoxx 600 index closed 0.1% higher on Wednesday, with defensives like utilities and health care leading gains, but cyclicals such as apparel makers and autos underperforming. Miners lagged behind as BHP Group Plc fell amid worries about plans to scrap its dual-listing structure. Luxury stocks were hit by reports that China is putting its wealthiest citizens on notice with plans for income regulation and redistribution.
Alcon Rises on Surgical Recovery, Ambu Falls: EMEA Equity Movers
Following a run of 10-straight record highs for the Stoxx 600, European stocks have mostly edged lower this week as the delta variant blurs the economic picture and monetary policy path, while events in Afghanistan added to the list of risks on investors' radars. Still, the benchmark sits less than half a percentage point off last week's closing high.
Wei Li, global chief investment strategist at BlackRock, still sees upside for European stocks.
"Day to day, markets could still be bothered and plagued by concerns of the delta variant," Li said in an interview. Yet the efficacy of vaccines still holds and the spread of the variant "represents a delay to the restart story, potentially, rather than a fundamental derailment."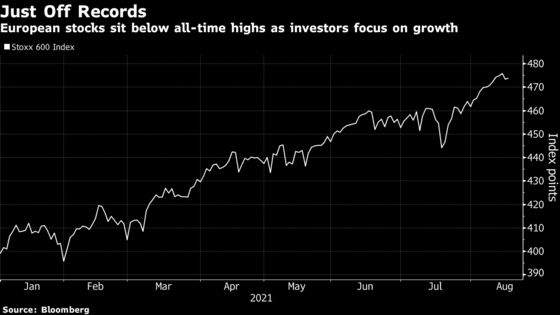 Meanwhile, although equity investors are "very interested" in understanding what the Afghanistan situation could mean for markets, they're not ready to "pull the trigger on de-risking," Li said.
European equities are actually relatively cheaper than they were before the second-quarter reporting season, Li said, as corporate profits have outstripped expectations. "Earnings have come through very strongly," she said, "Markets are rewarding companies that are beating forecasts and putting out favorable guidance."
Among individual shares moving on Wednesday, Alcon Inc. surged 14% after the eye-care group raised its guidance amid an expected recovery in surgical procedure numbers.
Beermaker Carlsberg A/S gained 2.3% after upping its earnings forecast as bars reopen from pandemic-induced lockdowns. 
But, Zur Rose AG fell 5.6% as analysts noted widening losses at the online pharmacy, partly due to marketing costs.
For a daily wrap highlighting the biggest movers among EMEA stocks, click here
You want more news on this market? Click here for a curated First Word channel of actionable news from Bloomberg and select sources. It can be customized to your preferences by clicking into Actions on the toolbar or hitting the HELP key for assistance.