Omicron Triggers Biggest Outflows From European Stocks in More Than a Year
During a period of volatility triggered by the emergence of the omicron variant, investors dumped European stocks to the benefit of U.S. peers, maintaining one of the main themes of this year's market rally.
The region's equity funds experienced $2.8 billion outflows in the week through Dec. 1, the most since October 2020, Bank of America Corp. strategists said, citing EPFR Global data. By contrast, their U.S. counterparts had the largest inflows in four weeks at $10.2 billion.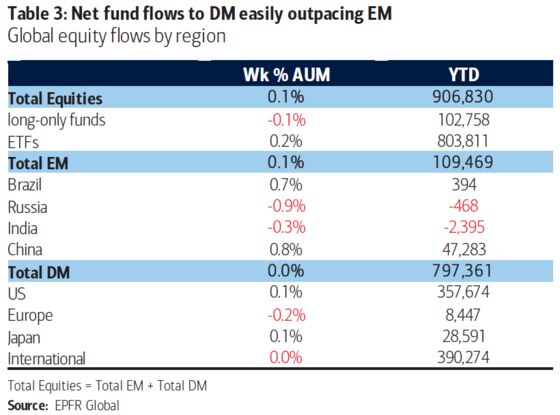 The flows are borne out by market movements. The MSCI Europe Index has fallen about 5% since a record high on Nov. 17, double the drop of the S&P 500 over the same period.
U.S. stocks were already the main beneficiaries of inflows that have supported a stellar year for global equities, with the MSCI World Index gaining nearly 16%. A record $900 billion has poured into stocks in 2021, exceeding the combined $785 billion inflows of the past 19 years.
For European stocks, the discount to U.S. equities has only continued to widen, reaching a record 32% based on a 12-month forward price-to-earnings ratio that has fallen below 15, its lowest level since April 2020.
"We see little justification for a sustained further de-rating in MSCI Europe," Morgan Stanley strategist Graham Secker wrote in a note on Friday. He sees even more discounted valuations beneath the surface, with 28% of European stocks trading at less than 12 times their estimated earnings.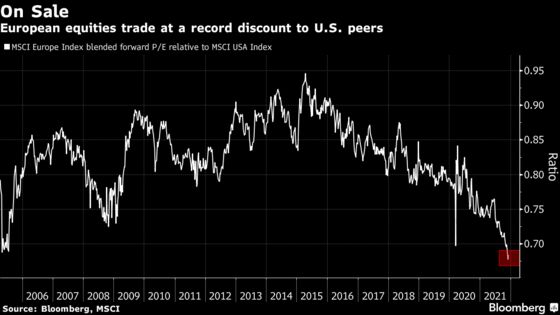 The spread of Covid-19's omicron variant may threaten Europe's growth outlook, with some governments already stepping up travel restrictions and partial lockdowns. This week, Germany imposed strict restrictions on unvaccinated people, while several countries including Austria and the Netherlands have imposed broad lockdowns.