European Energy Prices Jump as EU Proposes Banning Russian Oil
(Bloomberg) -- European energy prices gained after the European Union proposed to phase out Russian oil this year, a move that could boost demand for natural gas and coal.
Gas, electricity and coal prices jumped more than 4%, extending Tuesday's gains. Europe relies on Russia for about 25% of its oil and about a third of its gas needs. The proposed sanctions, which also include cutting off more banks from the international SWIFT payment system, add to concern about energy supplies just a week after Gazprom PJSC halted gas shipments to Poland and Bulgaria due to a dispute over payment terms.
"Our central scenario envisions more interruptions of Russian gas supplies to Europe going forward," said Mark Haefele, chief investment officer at UBS Global Wealth Management. "Some of the targeted countries may experience economic stagnation or mild contractions in the process." He doesn't expect a complete halt in all Russian gas supplies to Europe.
The EU is targeting a ban on Russian crude oil within six months and refined products by the end of the year. All services linked to transportation of Russian oil, including financing and brokering also face restrictions. Hungary and Slovakia -- which had been opposed to a swift cut-off of Russian crude -- will be granted until the end of 2023 to enforce the sanctions, according to people familiar with the matter.  
The risks add to the nervousness in the market about how buyers will meet Gazprom's new payment terms. Russia wants companies to open two accounts at Gazprombank JSC -- one in euros and one in rubles -- so that payments can be converted into the Russian currency. EU Energy Commissioner Kadri Simson has said following the request would be a breach of sanctions.
Many buyers facing payment deadlines in the coming weeks are still unsure over how to proceed, a move that's triggering concerns about more supply cutoffs.
Gas "prices will go up before they go down," Pablo Galante Escobar, global head of LNG and EMEA gas and power at trading firm Vitol, said on the sidelines of a conference in Amsterdam. "We are bullish."
Benchmark gas futures for delivery next month closed 4.4% higher at 103.82 euros a megawatt-hour, while the equivalent U.K. contract increased 1.9%. Coal rose 7.6% and German power for next year, a European benchmark, gained 5.1% to the highest level this year. 
Electricity prices also rose because of low availability of nuclear power stations in France, the EU's top producer of atomic energy.
The gas price is equivalent of more than $32 per million British thermal units, which is "just way too high," Anne-Sophie Corbeau, research scholar for the Centre on Global Energy Policy at Columbia University, said at the same conference. "Coal prices are also extremely high now, we see coal is also coming back."
Benchmark U.S. natural gas futures were trading above $8 per million British thermal units on Wednesday.
The war in Ukraine has forced Europe to try to wean itself off Russian energy. While replacing the huge volumes would be a mammoth undertaking, countries are tapping supplies of liquefied natural gas from the U.S., touting plans to keep coal plants open for longer and boosting investments in renewables. 
LNG's Ability to Fill Russian Gas Gap Is Limited, Cheniere Says
Gas deliveries from Norway, Europe's second-biggest gas supplier, increased on Wednesday after the end of some planned maintenance work. Equinor ASA said earlier this year that it will pump flat out to ease concerns over Russian flows to the continent. It said Wednesday it was ready to add more volumes with the Hammerfest LNG plant in northern Norway on track to start production on May 17 after being shut due to a blaze in late 2020.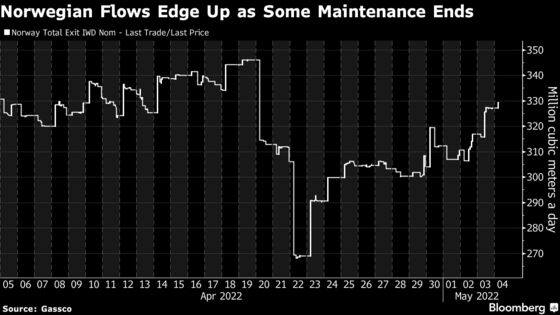 "With an energy crisis in Europe, Equinor's top priority is securing safe and reliable deliveries," Chief Executive Officer Anders Opedal said in an earnings statement Wednesday.
Market stories, analysis 
LNG WRAP: Price-Sensitive Pakistan Seeks Supply Amid Summer Heat
Russia's Yamal Gas Pipeline Resumes Germany to Poland Flows
Gas Markets Are Becoming Fragile on Lack of Liquidity: RWE
Russia Loses EU Gas Volumes Amid Tensions, Expiring Deals: Vitol
With assistance from Bloomberg