EU Suggests Companies Should Keep Paying for Russia Gas in Euros
EU Suggests Companies Should Keep Paying for Russia Gas in Euros
(Bloomberg) -- The European Union has suggested that companies could keep paying for gas in euros, as it published guidance that Moscow's decree calling for payment in rubles would violate sanctions. 
In a document posted on its website and shared with member states, the Commission said that the payment mechanism as outlined in the decree would run against European sanctions imposed on Russia, confirming a preliminary assessment that the procedure demanded by Vladimir Putin would hand total control of the payment process to Moscow.
But the guidance also states that the decree doesn't automatically preclude allowing companies to continue paying in euros, and says the scope for exemptions is not yet clear. The commission advised them to seek confirmation from Moscow that this was possible. 
"It would be advisable to seek confirmation from the Russian side that this procedure is possible under the rules of the Decree," the document says.
It's up to Moscow to decide whether this is acceptable, and there was no immediate comment from the Russian government or Gazprom PJSC on Friday. 
The stakes are high: Putin said on March 31 that if payments weren't made in rubles then gas exports would be halted. Europe depends heavily on Russian gas to heat homes and power industry.
Benchmark gas prices fell 4% after the guidance was published.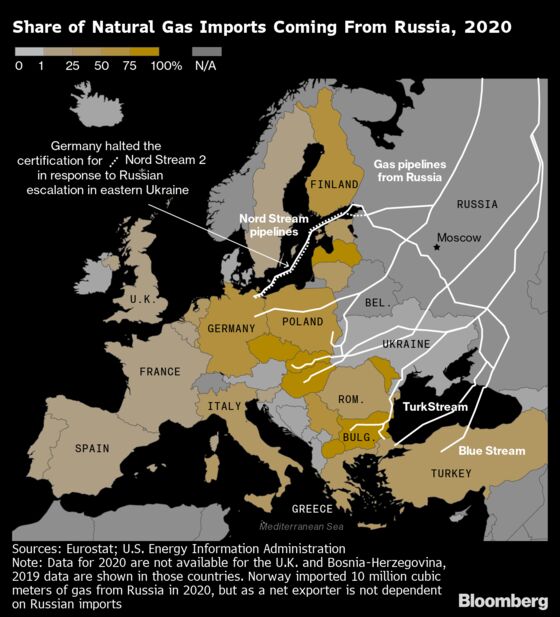 The bloc says that complying with the payment procedure in the decree would go against sanctions and hand more power to Russian authorities.
"With our G7 partners, we have clearly expressed our position: agreed contracts must be respected. 97% of the relevant contracts explicitly stipulate payment in euros or dollars. Companies with such contracts should not accede to Russian demands," a spokesperson for the European Commission said.
The decree introduces a new payment procedure, whereby the deposit of euros or dollars on the supplier's account is no longer considered fulfilment of the contractual obligations. Instead, buyers need to open two bank accounts with Gazprombank, one in foreign currency and one in rubles.
Euros or dollars received by EU companies need to be converted into rubles and buyers are only deemed to have fulfilled their contractual obligations once the conversion has been completed.
"As the conversion process may take an undefined amount of time, during which time the foreign currency is entirely in the hands of the Russian authorities including the Central Bank, it may even be considered as a loan granted by EU companies," the Q&A document published on Friday says.
Companies could make transfers to Gazprombank and state clearly that they consider their obligations fulfilled by that payment in euros or dollars in line with contracts before the adoption of the decree, the Q&A says.