ESG Debt Buyers Swallow Short-Term Losses to Gain Ethical Kudos
(Bloomberg) -- Investors in the booming ethical bond market are having to swallow short term losses on the road to improving their green credentials.
A global Bloomberg ESG index has lost 4.9% this year, underperforming a 4.4% drop on the Bloomberg Global Aggregate Index for investment-grade debt. An index comprising of just green bonds has fared even worse, losing 7.2% so far this year. That's the biggest-ever drop.
The poor performance is partly explained by the bonds in such indexes having longer maturities on average, at a time when central banks are starting to hike interest rates. That's compounded by borrowers capitalizing on the investor rush to extract higher prices in deals.
"Stakeholders themselves are not pushing for better returns because at the moment the return is a social return not an economic return," Bedford Row Capital Chief Executive Officer Scott Levy said in an interview. "That is a short term trend, not a long term trend."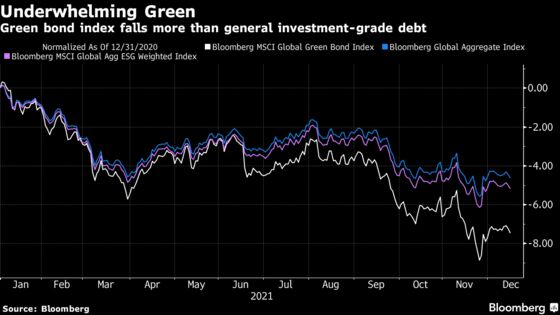 The sagging returns threaten to be an unwelcome sideshow to one of the fastest-growing parts of the global debt machine. In Europe alone, sales of environmental, social and governance (ESG) debt made up more than a quarter of the region's syndicated deals this year, a record and nearly double 2020.
For investors wanting to "greenify" their portfolios, one thing is clear: they're going to need to do their homework, particularly since returns next year may also be threatened by soaring credit market volatility as central banks battle surging inflation.
"Investors need to do their work to pick the best," said Scott Freedman, a fund manager at Newton Investment Management, which oversees 103 billion pounds ($137 billion) of assets including ESG debt. "If you own green bonds purely passively, you would be exposed predominately to European investment-grade corporates, mainly utilities and banks, so expect tight spreads and low yields."
Read More:
Volatility in Credit Poised to Jump as Inflation Fight Kicks Off
A look at the ESG bond deals sold this year in Europe shows spreads on a third are now quoted wider than at issuance, according to data analyzed by Bloomberg. Those deals typically also carried a so-called greenium, a premium paid by investors to grab a green bond instead of a conventional note.
The "greenium shows certain investors are willing to pay for impact," said Erika Wranegard, a fixed-income portfolio manager at Lombard Odier Investment Managers. "The right level of greenium should, in addition to reflecting the credit quality and liquidity of the bond, reflect the impact of the project. This opens up for greenium divergence across thematic bonds, which can be an interesting investment opportunity in 2022."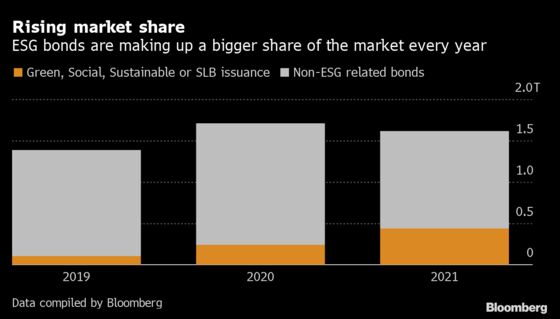 The divergence can be seen in deals such as the European Investment Bank's six-year Climate Awareness Bond that offered a spread of 20 basis points below mid-swaps, against energy company Engie SA's eight-year green bonds with a spread of 42 basis points above mid-swaps.
It's similar picture in secondary market performance. Paragon Banking Group Plc's Tier 2 deal from March has tightened around 141 basis points since then, while Europe's worst-performing is a green hybrid note sold by Atrium European Real Estate Ltd in April that's widened 179 basis points, according to data compiled by Bloomberg.
"I just don't think there is any value in green bonds," Bedford Row Capital's Levy said. "Unfortunately, the main, larger benchmark issuers are going to be poor value, they are going to go long, they are going to go cheap, we have inflation, where is the upside? There isn't any."
Yet juicing returns by avoiding the ESG debt market altogether is getting harder. Governments are setting long term emissions reductions targets that are pushing companies to adapt, while regulators are increasingly scrutinizing green assets and lending at financial institutions.
That's driving bullish estimates for global issuance. ING Groep NV sees volumes reaching as much as $1.5 trillion in 2022, after they surpassed $1 trillion for the first time this year. For some, the future benefits may far outweigh any current losses.
"In the longer term, an issuer that has a robust sustainability strategy should generate a superior risk-adjusted return," said Newton's Freedman.
Elsewhere in credit markets:
Sales of new bonds in Europe's primary market reached about 1.62 trillion euros ($1.84 trillion) this year, according to data compiled by Bloomberg. That's about 5% behind the 1.7 trillion euros sold in 2020, when issuers rushed to the market to bolster their balance sheets to navigate the pandemic.  
KfW expects to issue bonds with a volume of up to 85 billion euros in 2022, the bulk as euro and U.S. dollar benchmark debt. It also expects to issue green bonds in large volumes and different currencies for a total volume of at least 10 billion euros
Lehman Brothers Holdings Inc., parent of the firm that went bankrupt during the 2008 financial crisis, is seeking to reverse a U.K. ruling that would cut recoveries for its creditors

The lower court ruled that subordinated debt known as "enhanced capital advantaged preferred securities" should be paid ahead of other low-ranking creditors including LBHI, which could give the ECAPS holders a windfall of 500 million pounds, or about $665 million
Deutsche Bank AG has the largest stake, and other investors include Barclays Plc, Farallon Capital Management and CarVal Investors

Telecom Italia SpA's board is unlikely to make a decision on KKR & Co.'s 10.8 billion euros ($12.2 billion) takeover bid at a crucial meeting on Friday, according to people familiar with the matter

The board is planning to postpone the approval the U.S. private equity firm's request for a due diligence, with a decision coming no earlier than January
A jump Friday in dollar bonds of Chinese builders including Shimao Group Holdings Ltd. looks set to give Asian credit a partial reprieve after a blowout in spreads this week.
Yield premiums on some dollar notes of Shimao, which have the lowest investment-grade rating from Fitch Ratings, had widened by more than 1,600 basis points earlier this week after it became the latest Chinese developer to become the focus of investor concern
Shimao's bonds rallied Friday on signs that financial authorities were coordinating negotiations between the company and some trust firms for loan extensions
Shimao's credit rating has been slashed to junk territory from investment grade by Fitch Ratings, making it a 'fallen angel' at the international risk assessor. That followed its long-term rating being downgraded deeper into junk by Moody's Investors Service
The Bank of Japan announced a slow walk of its withdrawal from emergency pandemic aid in a move that contrasts with the urgency of other major central banks winding back stimulus
South Korea is among the world's biggest seller of green bonds, and one of its top issuers, the Export-Import Bank of Korea, is planning to tap the global debt market more aggressively next year to provide sustainable funds to local companies operating abroad
Many blue-chip U.S. companies are likely to boost their borrowings next year until they're rated just a few steps above junk, a risk the market may not be fully prepared for, according to strategists at Citigroup Inc. 
Investors withdrew $1.26 billion of cash from funds that invest in U.S. investment-grade bonds for the week ended Dec. 15, marking the third straight week of outflows, according to Refinitiv Lipper
Purdue Pharma LP's multi-billion dollar opioid settlement was dealt a surprising blow on Thursday when a federal judge reversed a bankruptcy court's earlier approval of the deal