Emirates Global Aluminium Sees Profit Soar Ahead of Possible IPO
Emirates Global Aluminium Sees Profit Soar Ahead of Possible IPO
(Bloomberg) -- Emirates Global Aluminium PJSC, the Middle East's biggest producer of the metal, posted a record profit in the first half of the year as prices soared along with those of other commodities.
The company, whose United Arab Emirates-based shareholders are considering an initial public offering, generated income of 1.74 billion dirhams ($473 million), after a loss of $57 million a year earlier. Core earnings were $950 million.
Aluminum -- a light, easily-recyclable metal used in everything from beer cans to plane parts and which may be used more often in electric vehicles -- has climbed as major economies recover from the Coronavirus pandemic. Futures in London are up almost 35% in 2021 to $2,650 a ton, the highest in around a decade.
"We are bullish about prices," EGA's chief financial officer, Zouhir Regragui, said in an interview. The short-term outlook is positive because of the post-Covid economic bounce, while in the long run aluminum will benefit as producers manage to cut their greenhouse gas emissions, he said.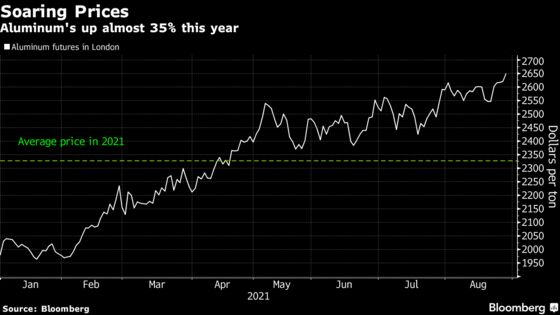 EGA is equally owned by two sovereign wealth funds -- Investment Corp. of Dubai and Abu Dhabi's Mubadala Investment Co. Mubadala said in April it was close to a listing of the company, which may be valued around $15 billion to $20 billion.
"I am confident that our performance will continue to improve, making EGA increasingly attractive should our shareholders decide to proceed with an IPO, which would be one of the UAE's largest ever," Chief Executive Officer Abdulnasser bin Kalban said.
Production fell in the first six months of the year, with sales down around 6% from the final quarter of 2020 to 1.18 million tons. That was due to logistics constraints -- including a global shortage of containers -- and because EGA was upgrading carbon plants, the CEO said in the same interview.
EGA, which has smelters in Abu Dhabi and Dubai and a bauxite mine in Guinea, declined to give a production forecast for the rest of the year.
The company said it will continue to prioritize higher-value, or premium, aluminum, which made up 86% of sales in the first half, up from 69% a year earlier.
It will also try to sell more low-carbon aluminum. In January, it began producing aluminum using solar power and aims to make 40,000 tons this year. BMW AG was the first customer for this type the metal, after signing a supply deal worth as much as 100 million euros ($120 million) with EGA.
Electricity generation accounts for around 60% of the industry's greenhouse gas emissions and most smelters still use coal.