Deutsche Bank's DWS Slumps After U.S., Germany ESG Probe
Deutsche Bank's DWS Shares Fall as U.S. Opens Probe on ESG Claims
(Bloomberg) -- Deutsche Bank AG's asset-management arm DWS Group slumped the most in almost 18 months after authorities in the U.S. and Germany began a probe into allegations that the firm exaggerated the environmental or social credentials of some ESG-labeled investment products.
BaFin, the firm's local financial markets regulator and U.S. prosecutors are looking at recent claims made by DWS Group's ex-sustainability chief, Desiree Fixler, that the firm declared more assets had been screened for ESG criteria than they actually had, according to people familiar with the matter. 
DWS said it stands by its annual report disclosures and rejected what it called "unfounded allegations." The company will "remain a steadfast proponent of ESG investing as part of its fiduciary role on behalf of its clients," DWS said in a statement late Thursday.
The news of the probes had sent DWS's stock down 13.7% earlier on Thursday, the biggest decline since March last year when the coronavirus pandemic hit financial markets. Deutsche Bank fell 2.3% at the 5:30 p.m. close in Frankfurt.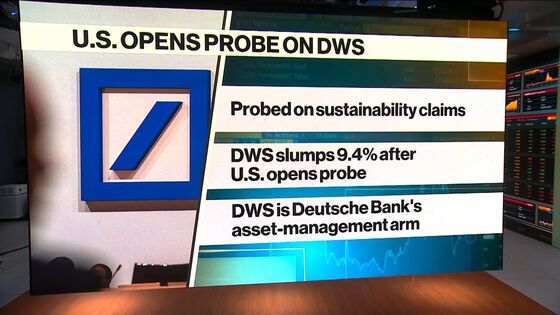 The probe adds to a slew of existing legal headaches for Deutsche Bank Chief Executive Officer Christian Sewing as he seeks to take advantage of the fast-growing trend for investments that aim to further environmental or social goals. The lender has also been criticized by the U.S. Federal Reserve for failings in its controls, while German supervisor BaFin has boosted its money-laundering monitor at the bank. There's an internal investigation into whether it mis-sold foreign-exchange derivatives.
A Bafin spokeswoman said by phone that it generally probes allegations given by whistle-blowers, though declined to comment on individual companies.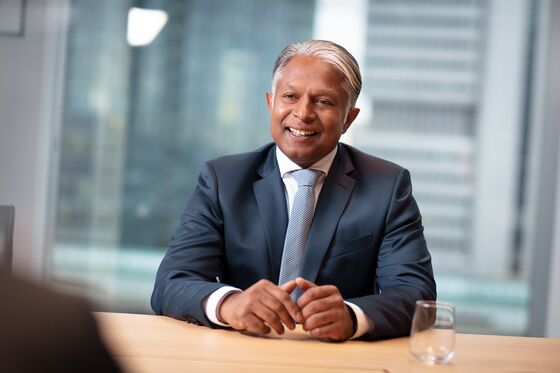 The investigation is also a setback for DWS CEO Asoka Woehrmann who has made sustainability a key plank of his strategy for the asset manager. 
"We feel strongly about the change needed in the global economy to ensure prosperity and sustainability for our future generations," he said in April. "It is our declared ambition to help lead this change."
The probe comes after Fixler told the Wall Street Journal earlier this month that the asset manager's actions on green products fell short of its words. Fixler started in DWS's newly created role of group sustainability officer in September 2020, and was dismissed earlier this year, just months later.
The Securities and Exchange Commission and federal prosecutors represented by the U.S. attorney's office in Brooklyn are probing DWS after her claims, the Journal said when it first reported the news late Wednesday.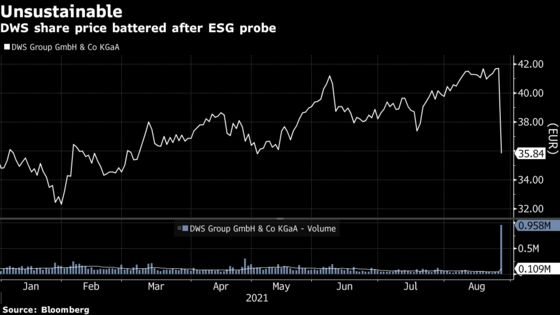 "If regulators are investigating DWS's ESG credentials claims, this could be an issue that has implications across the sector as it sets a precedent for regulators' sustainability reporting expectations," said Mandeep Jagpal, an analyst at RBC Europe Ltd.
Fears that investment managers will be tempted to over-state the environmental and social benefits of their products are causing regulators to pay greater attention to their claims. In March, the SEC formed a task force aimed at investigating financial institutions' sustainability claims, to "pro-actively identify ESG-related misconduct." 
Europe's asset management industry already had to remove the ESG label from an estimated $2 trillion in assets between 2018 and 2020, as tougher regulations were gradually put in place. Europe's Sustainable Finance Disclosure Regulation, which took effect in March, requires asset managers to document claims of sustainability in their portfolios, as policy makers in the region set the world's most ambitious agenda to drive capital away from carbon emitters. 
German investment firms managed 361 billion euros ($422 billion) in sustainable funds, or 10% of the country's total fund market, at the end of June, according to BVI, the industry's lobby group.