Duquesne, Jana Among Fund Investors Breaking Up With Facebook
Duquesne, Jana Among Fund Investors Breaking Up With Facebook
(Bloomberg) -- Billionaire Stanley Druckenmiller's love for Facebook Inc. proved short-lived, and he's not alone.
The social-media giant, a onetime hedge fund darling, saw a number of high-profile investors hit the exit during the third quarter, when an earnings miss in July erased $120 billion from its market capitalization in a single day. The shares fell 15 percent in the three months ended Sept. 30.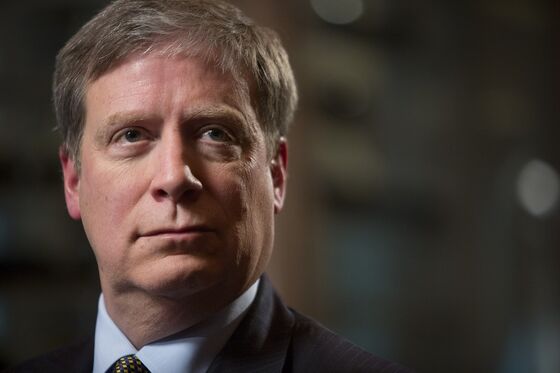 Druckenmiller's Duquesne Family Office reversed course on a $178 million stake it built in the second quarter, slashing that to $3.6 million, according to a filing Wednesday. Duquesne also sold most of its Alibaba Group Holding Ltd. and Netflix Inc. shares, and close to a quarter of its position in Amazon.com Inc., though the internet giant remained its third-largest stock holding.
Concerns over higher interest rates and the prospect of an escalating trade war between China and the U.S. are seen by some as creating a more challenging environment, pushing investors away from high-growth companies like the FAANGs -- Facebook, Amazon.com Inc., Apple Inc., Netflix Inc. and Google parent Alphabet Inc. -- which previously led gains for the broader market.
David Tepper's Appaloosa Management also reduced its Facebook stake last quarter, though he told CNBC on Sept. 13 that the company looked "kinda cheap." By the end of that month, Tepper's firm had a position worth $542.7 million and a third fewer shares than it owned on June 30.
Among other Facebook sellers:
Third Point ditched its whole stake, worth $583 million at the end of June. Founder Dan Loeb announced he'd exited the name during an August conference call, saying Facebook had "a very disappointing quarter."
Philippe Laffont's Coatue Management, which specializes in tech investments, cut its stake by a third, hanging onto $690.6 million of shares. Laffont told investors last month that the firm had too much exposure to large global internet platforms.
Jana Partners cut its entire stake in the company, which was valued at $126.6 million at the end of June.
Some hedge funds and family offices also fled other FAANGs.
Viking Global Investors and Maverick Capital cut the majority of their stakes in Alphabet, while Soros Fund Management and Duquesne slashed their holdings in Netflix.
Still, Apple was a new buy last quarter for both Point72 Asset Management and Tiger Global Management. Steve Cohen's Point72 also established a new stake in Netflix. And unlike many of its peers, Lone Pine Capital increased its Facebook position.
Money managers who oversee more than $100 million in the U.S. must file a Form 13F within 45 days of each quarter's end to list those stocks as well as options and convertible bonds. The filings don't show non-U.S. securities, holdings that aren't publicly traded, or cash.
--With assistance from Kamaron Leach.
To contact the reporters on this story: Simone Foxman in New York at sfoxman4@bloomberg.net;Krista Gmelich in New York at kgmelich1@bloomberg.net
To contact the editors responsible for this story: Pierre Paulden at ppaulden@bloomberg.net, Josh Friedman, Dan Reichl