Dividend Crisis Has U.K. Income Funds Fighting for Future
Dividend Crisis Has U.K. Income Funds Fighting for Their Future
(Bloomberg) -- One of the U.K.'s most popular investment strategies is under siege, battered by sweeping dividend cuts during the pandemic.
U.K. equity income funds, which manage nearly 46 billion pounds ($58 billion), plunged 21% on average in the first half of 2020, according to data compiled by Morningstar Inc. That's the sector's worst half-year since 1974, when the economy was reeling from an oil crisis and stock-market crash.
The decline was driven by the stock market sell-off in March and the decision by Royal Dutch Shell Plc and dozens of other companies to curtail dividends.
"The U.K. has historically had this culture where companies try hard to keep dividends throughout the downturn, but this pandemic has changed that," said Laura Foll, a portfolio manager on the global equity income team at Janus Henderson Group Plc. "There's no question the U.K. dividend culture is substantially impaired, if not gone at least temporarily."
Shell's bombshell announcement raised doubts about the sustainability of the generous payouts that have long attracted investors to U.K. stocks. Nearly half the companies in the FTSE 100 index have cut, suspended, deferred or canceled them, according to AJ Bell Plc. That includes many top payers, such as Shell and the big banks, which scrapped dividends to free up cash during the pandemic.
Once one of the country's most-popular retirement investments, equity income funds have seen clients pulling cash steadily since mid-2016, when the U.K.'s vote to leave the European Union rocked markets. Assets under management are about half the level of three years ago, and investors pulled nearly 443 million pounds from funds in June, Morningstar data show. The downfall last year of Neil Woodford, once the sector's biggest name, further eroded confidence.
This year's rash of dividend cuts has led some to question whether the strategy has a future.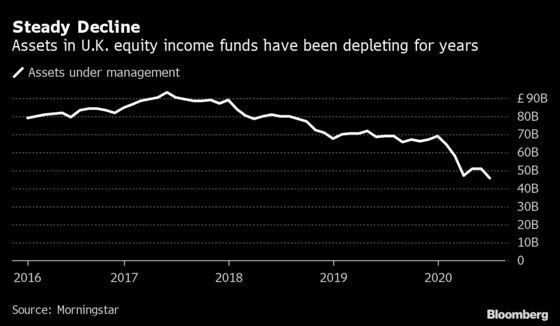 The two worst-performing funds show the impact of the dividend cuts, which affected companies of all sizes.
The UBS U.K. Equity Income Fund invests in many big-paying companies long favored by income fund managers, including Barclays Plc, BP Plc and Shell. The MI Chelverton U.K. Equity Income Fund focuses on small and mid-size companies. Both finished the first half down 30.3%, Morningstar data show.
The UBS fund was hit by its holdings of economic-sensitive stocks during the downturn, according to Steven Magill, who manages the fund at UBS Asset Management. "However, we believe the fund is positioned to benefit from a market recovery, as it did in 2016 when it was the best performer in the U.K. equity income sector," he said.
Chelverton manager David Taylor said some of the fund's consumer stocks have been particularly hard hit by the pandemic, and he's now investing in companies "which we believe will pay dividends earliest and at good levels as the economy recovers."
Still, the outlook isn't entirely bleak. London-listed stocks still offer a comparatively strong dividend yield -- 4.4% for the FTSE 100 versus 1.9% for the S&P 500. Interest rates are forecast to stay close to zero for a long time, boosting the appeal of all stocks.
And a number of managers beat the benchmark, which was down 17.5% in the first half. The best performer, the CBF Church of England U.K. Equity Fund, managed to stem losses and was down 6.9%.
While it may take a couple of years for dividends to return to pre-Covid levels, there are still companies in sectors such as pharmaceuticals and telecommunications that are making payouts, allowing managers to create a portfolio with a sustainable dividend, according to Jorik van den Bos, head of Kempen Capital Management's dividend strategy.
"As long as that's the case, there'll be a market for U.K. equity income funds," he said.
The immediate outlook is bleak, however, with more payout cuts possible in the second half of the year. Many U.K. investors will see their dividend income shrink by about 30% or more this year, according to Shoqat Bunglawala, who heads the global portfolio solutions group for Europe, the Middle East, Africa and Asia-Pacific at Goldman Sachs Asset Management.
Such a decline could prove fatal for some funds if their investors begin to pull more money, according to Mark Clubb, managing director of TEAM Asset Management.
"Look at the top 10 holdings for most of these funds," Clubb said. "What will happen? In the second half, many of these funds will possibly gate and people will panic."