Dave Chappelle Invests in Podcast Startup Luminary
Dave Chappelle Invests in Podcast Startup Luminary Media
(Bloomberg) -- Luminary Media LLC, the subscription podcast company behind Dave Chappelle's "The Midnight Miracle," named a new chief executive officer and announced an investment from Chappelle's Pilot Boy Productions. 
Rishi Malhotra, co-founder of streaming audio app JioSaavn and a former vice president at HBO, is taking over for Simon Sutton, who has served as CEO since 2019. Sutton will remain on the board.
The company declined to share how much Pilot Boy Productions invested or the platform's valuation. Malhotra said the company, which is still evolving its business model, has a couple hundred thousand paying subscribers.
"We feel really good about the progress the company has made," Matt Sacks, the company's executive chairman, said in an interview.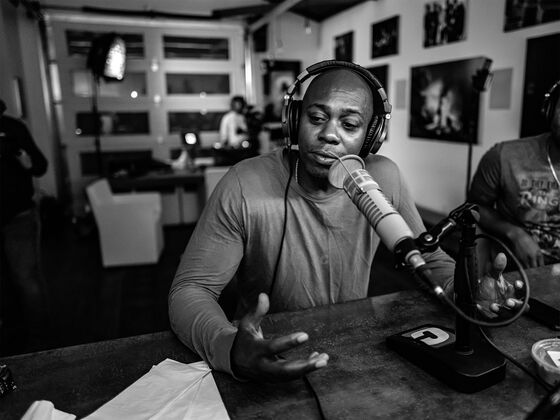 Luminary launched in 2019 with the idea that listeners would pay for ad-free podcasts. The company pushed users to its app, but struggled to make a mark in the industry and migrate customers to its new platform. Forty-plus shows made up Luminary's initial offering, but in the years since many programs have ceased production or gone on to be released more widely for free.
Last year, Luminary began offering its subscription in Apple Podcasts, with Apple saying it's the second-most-popular paid podcast provider on the platform, after Wondery Plus.
Moving forward, the company will focus on music, comedy and sports content, Malhotra said, with a particular interest in building a "home" for artists and a platform that will bring "audience and artists together." 
Artists like Chappelle, Russell Brand and Lena Dunham, all of whom already make Luminary podcasts, will lead to other revenue opportunities, like possibly NFTs of their cover art, related merchandise and audio recordings. The company remains committed to its app, Sacks said, as well as to its Apple Podcasts partnership.
"Distribution partners are very, very important," Malhotra said, adding the company will "remain agile" by offering paid originals, along with syndicated shows that are available more widely.
Sacks said the initial struggles led to the company's current strategy. "We learned in podcasting, depth is more important than breadth," he said. "We didn't need 30 to 40 shows. We needed one to two shows people couldn't live without."
Chappelle, one of the world's most-popular stand-up comedians, was the center of controversy last year when transgender activists, as well as a number of Netflix Inc. employees, protested comments he made in one of his comedy specials.
With its investment, Pilot Boy also received a board seat filled by civil rights activist Ben Jealous. The board will also gain Heather Hiles, managing partner at Black Ops Ventures, and Mara Buxbaum, president of publicity firm ID Public Relations.