Dalio Says Evergrande 'Manageable' Even as Investors Stung
(Bloomberg) -- China Evergrande Group's debt crisis "is all manageable" even as lenders are hurt by the property developer's troubles, Ray Dalio said.
"Investors will be stung -- that's how it works," Dalio, the founder of hedge fund Bridgewater Associates, said in an interview Tuesday with Tom Keene on Bloomberg Television. "The system will be protected because it's denominated in its own currency."
Evergrande -- China's largest property developer, with $300 billion of liabilities -- missed interest payments due Monday to at least two of its largest bank creditors, taking the cash-strapped developer a step closer to one of the nation's biggest debt restructurings. Evergrande slid deeper in equity and credit markets Tuesday, fueling concerns about broader contagion after S&P Global Ratings said the developer was on the brink of default.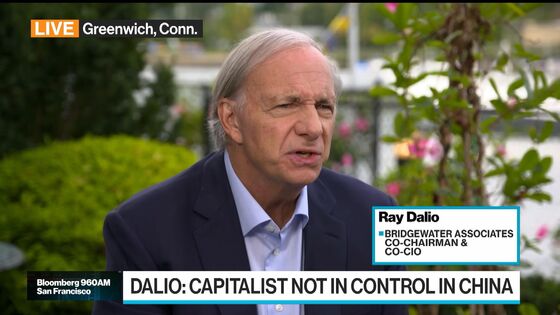 "China's a strategic play -- you're not going to jump in and out. And the amount that you're in should be that which you're comfortable with," Dalio said. "It's not smart to sell on the break, or buy." While most investors are overweight the U.S., diversification is important given the "war of sorts going on in technology," he said.
As China has cracked down on business sectors from tech to online education and real estate, investors have questioned the viability of investing in the country. But Dalio, who first visited China in 1984, has remained positive on the world's second-largest economy.
Earlier this month, he said investors shouldn't neglect China "not only because of the opportunities it provides but you lose the excitement if you're not there." As for the market swings in Chinese markets, Dalio has described them as little more than "wiggles."
Dalio has an estimated net worth of $15.6 billion, according to the Bloomberg Billionaires Index. Bridgewater's Pure Alpha II hedge fund has gained 1.4% this year through August. The firm manages $105 billion in hedge fund assets. 
Here are some other highlights from the interview: 
On Bitcoin: The cryptocurrency has an "imputed value, not an intrinsic value." If Bitcoin is successful, it will be worth "a lot more" than the current value, which is less than $1 trillion.
On quantitative easing: Dalio predicts more QE from the Federal Reserve down the road, after the upcoming tapering of its current asset purchases. He added that people holding cash will have negative real returns.
On performance: Dalio said Bridgewater's All Weather fund is up about 10% so far this year