Treasury Bears Redeemed as Citi, Michael Burry See Higher Yields
Citigroup Says Short Treasuries But Hedge With Bet Against Yuan
(Bloomberg) -- Investors betting on higher Treasury yields are getting affirmation from the likes of Citigroup Inc. and Michael Burry of "The Big Short" fame. 
Strategists from Citigroup Global Markets recommend clients position for higher U.S. rates, with the bank seeing 10-year yields climbing to 2% by the end of 2021 on a longer-term economic rebound and Federal Reserve tapering. 
That view echoes wagers by Burry's Scion Asset Management, which held $280 million of puts on the long-term Treasuries at the end of June, according to a regulatory filing released last week. 
Monday's price action is lending credence to the calls, with demand for the safest assets fading and benchmark rates climbing two basis points to 1.28% as of 7:03 a.m. in New York, extending a rebound that sent yields to as low as 1.13% last month.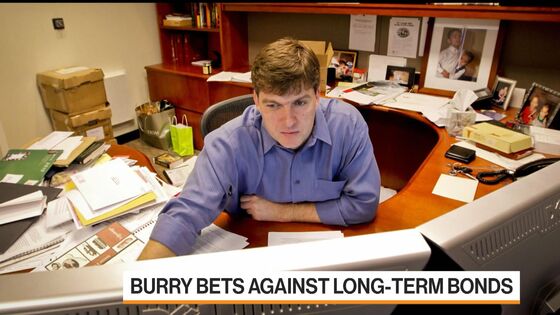 The Treasury curve also flattened as long-dated notes underperformed, bring the spread between five- and 30-year Treasuries to the lowest level since August 2020. Stocks, meanwhile, lured bargain hunters following a selloff last week and the recent decline in commodities abated. 
The shift in pricing comes ahead of the Fed's annual Jackson Hole symposium at the end of the week, with traders awaiting hints from Chairman Jerome Powell on how much Covid's resurgence is weighing on economic growth, and whether that sways when the Fed changes course.
"While the near-term picture is murky, our conviction on the broader macro picture is supportive of higher" U.S. 10-year yields, Citigroup strategist Jabaz Mathai in New York wrote in a client note. 
To screen out Chinese economic weakness, which would be one of the main risk factors that may push Treasury yields lower, Citigroup strategists say investors use options to wager against any strength in China's currency. 
They recommend a short position in Treasuries through buying a structure known as payer spreads on 10-year swap rates, with a six-month expiry, aiming for rates to rise by 25 to 50 basis points. Investors should simultaneously sell three-month puts on USD/CNH struck at 6.40, the strategists said.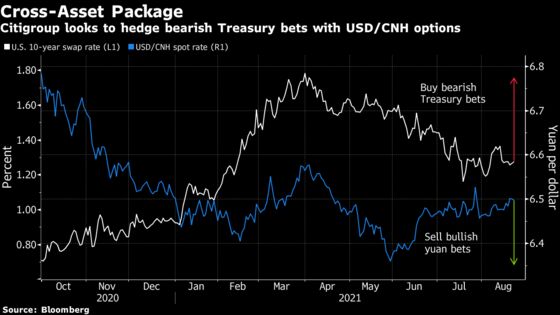 Treasuries were also on the back foot ahead of auctions, with the U.S. is due to sell a combined $183 billion of two-, five- and seven-year notes beginning Tuesday. 
Burry made huge, wildly profitable bets against the housing bubble and and was made famous in the movie "The Big Short". His short position in Treasuries was in the iShares 20+ Year Treasury Bond ETF.