Toxic Abroad, Beloved at Home: China Assets Show Rare Disconnect
Chinese Firms Either Fine or In Trouble, Depending Where You Are
26 Mar 2020, 5:42 PM IST
The interest on bonds issued by China Evergrande Group, the country's most indebted property developer, should be either 22% or 5%, depending on who you ask.
Evergrande's $200 million dollar bond due in June now yields more than four times as much as the company's onshore note due the same month. Sunac China Holdings Ltd.'s offshore note due in July is yielding 15%, versus a 3% quote for a mainland-issued note with a similar maturity.
They're just two examples of the price dislocations now appearing in Chinese financial assets, where stocks and bonds trading on the mainland have shown relative resilience to the shockwaves upending global markets. Making matters worse offshore was that the speed of the rout triggered forced selling from traders who faced margin calls on their holdings.
That's helping create the widest divergence between onshore and offshore securities in years: a gauge of Chinese stocks in Hong Kong is trading near its lowest level relative to the CSI 300 Index since 2007. Premiums for China's dollar high-yield bonds are at an eight-year high, while those for domestic junk notes are at their lowest in three years.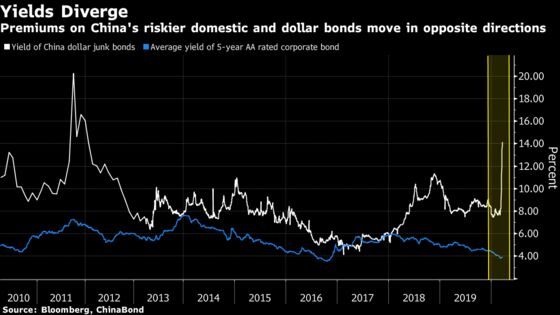 The dispersion illustrates the difficulty in valuing companies now caught between a dollar liquidity crisis and China's efforts to shore up its domestic markets and economy. In addition to diverging views on the pace of China's recovery from the virus outbreak, questions about how to evaluate the health of the country's corporate sector, in many ways unique in its exposure to government backing, are muddling the equation.
"Overseas investors didn't seem to fret much as much when China was pulling through the worst of virus -- now that the fire has traveled, the mood is different," said Chen Yicong, managing director at Beijing Chengyang Asset Management Co. "I do think local investors may have turned too cheerful too soon."
The divergence in demand domestically and abroad is also glaring in the stock market. Examples include PetroChina Co., Great Wall Motor Co. and Aluminum Corp of China Ltd., whose shares trade at more than double the price of their Hong Kong-listed equivalent. Some brokerages are even more extreme: China Galaxy Securities Co. is almost triple the price of its shares across the border.
As global traders struggle to find accurate prices for some corporate bonds, a surging volume of overnight repo contracts in China suggests traders are building leverage to boost profits in their bond investments.
While mainland-based investors may be showing faith in the government to navigate the economic crisis, they also have little in the way of choice. They face significant capital controls and have restricted access to overseas markets. A rush to invest abroad this month triggered a suspension on some funds that can access offshore stocks and bonds, as managers bumped up against quotas.
Read more on China's diverging domestic and offshore markets:
China Is Swimming in Cash With Cheapest Funding Costs Since 2006
China Traders Sense Victory Over Markets, as Well as Virus
Dollar Funding Drought Drives China Builders Home for Bond Sales
Chinese Dollar Bonds Yielding Above 15% Increase Amid Rout
China Dollar Bond Market Joins Regional Sell-0ff As Panic Grows
Global markets came under extreme strain last week when investors sold almost everything but the dollar as fears of a credit crunch grew. That helped widen the spread of commercial paper rates over risk-free rates to a record. Pressure has since eased after the Federal Reserve unveiled plans to buy an unlimited amount of bonds and support credit markets.
Contrast that with China, where liquidity is so abundant that borrowing in yuan costs the least in 14 years. The nation's benchmark money-market rate tumbled to 0.7888% last week, after Beijing reduced the amount of cash lenders need to set aside as reserves earlier this month.
Monetary conditions aside, the question remains whether local traders are underestimating the impact of the global shutdown on China's economy. While some factories are resuming production, the country's companies are suffering their worst quarter on record, according to the China Beige Book, a survey of firms.
"The disparity in stocks is solely due to liquidity," said Shine Gao, fund manager at Taicheng Capital Management Co. "The real test will come with economic data in the second quarter."
Get Your
Daily Newsletter
Get market moving news, top news & compelling perspectives
---