China State Media Seeks to Calm Investor Nerves After Stock Rout
(Bloomberg) -- Stocks in China and Hong Kong halted a three-day rout as the Chinese state media sought to reassure investors shaken by the government's regulatory crackdown.
The CSI 300 Index ended 0.2% higher after a volatile session that saw it swing between gains and losses more than a dozen times. The Hang Seng Index closed up 1.5% after falling 1% earlier in the day and briefly entering a bear market. Both gauges are down about 18% from their February peaks.
Chinese state media talked up the market after a wave of selling that had seen nearly $1.5 trillion of market value wiped off Hong Kong and mainland shares in the three trading days through Tuesday, according to Bloomberg-compiled data. Investors have dumped stocks in the crosshairs of Beijing's sweeping regulatory crackdowns, with selling also spreading to bond and currency markets.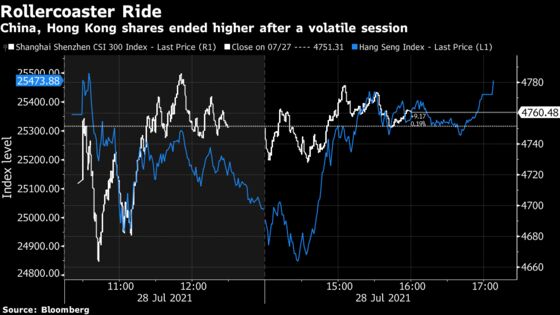 "China's 'national team' may be getting ready to 'stabilize' markets," Jeffrey Halley, senior market analyst at Oanda Asia Pacific Pte., wrote in a note. "It is doubtful, though, that the repricing of China equities for government regulatory risk has run its course."
Recent declines are unsustainable and the market will stabilize quickly, the Securities Daily reported, citing fund managers. The slump has "to an extent, reflected the misreading of policies and venting of sentiment by some funds," wrote the Securities Times in a front page editorial, adding that economic fundamentals are unchanged and the market may stabilize at any time.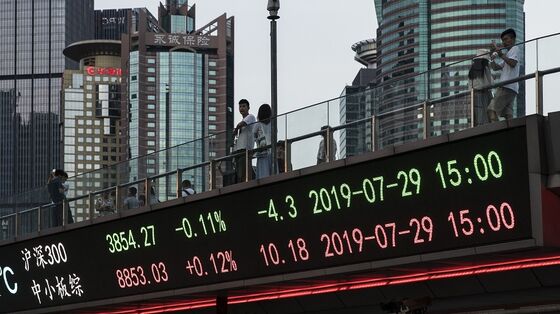 Offshore investors purchased a net 8.1 billion yuan ($1.2 billion) of Chinese shares via stock links with Hong Kong on Wednesday, the most since July 15.
Meituan, which had seen its stock hammered amid China's new regulations on the food delivery sector, climbed 7.5% on Wednesday. Tencent Holdings Ltd. rose 0.3% after sliding 9% on Tuesday. The Hang Seng Tech Index jumped 3.1% after plunging about 17% in the previous three sessions.
READ: Tencent Among Cos. Ordered by China to Fix Mobile App Issues
"Recent policy and regulatory developments have led to increased risk premiums for Chinese equities at the least," said Vivian Lin Thurston, portfolio manager and Chinese equity analyst at William Blair Investment Management. "We are in the process of reassessing the risk reward related to our China investments. A thoughtful and thorough re-evaluation is warranted before any portfolio decisions."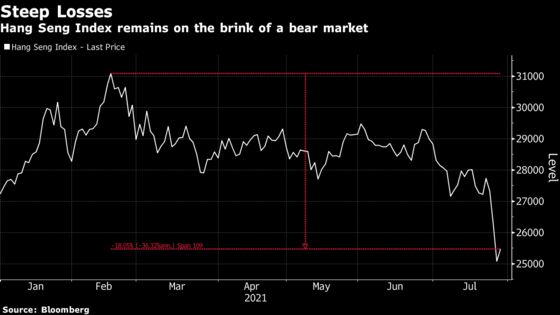 The jawboning by state media follows dramatic market moves this week that underscored the fragility of investor confidence amid a months-long regulatory onslaught by Beijing. Traders fear the latest crackdown on the education, tech and property sectors could expand to other industries such as health care, as China looks to tighten its grip on Big Tech and reduce the wealth gap. The government has targeted private enterprises it blames for exacerbating inequality and increasing financial risk.
"There are still pockets of stocks to buy in China and we shouldn't turn our backs on the market given its size, breadth and growth," Lorraine Tan, Morningstar's director of equity research for Asia, wrote in emailed comments. "I'd prefer to suggest that investors look at government-promoted sectors and/or industries that are already competitive and switch to those names."
Elsewhere, the China Securities Journal echoed other publications in saying there was no systemic risk, and cited domestic mutual and private fund managers saying that there is no need for investors to be overly pessimistic. The Shanghai Securities News also carried a piece citing analysts that the decline has brought buying opportunities in quality stocks.
"There has been panic in some sectors more than others in recent days, and the important thing is to keep emotions in check," said Du Kejun, fund manager at Beijing Gelei Asset Management Center LP, adding that he would consider buying EV firms and chipmakers if the dip continues.
With assistance from Bloomberg