China Market Rescue Unleashes Hot Money Seeking Risky Stocks
Market support measures announced in October including easing of trading restrictions have helped fuel the frenzy, analysts say.
(Bloomberg) -- China's drive to support its beleaguered stock market is helping pave a high-risk road for speculators chasing unlikely targets.
Shares tagged with a high-risk warning from stock exchanges, such as companies with negative net assets or two straight years of losses, jumped an average of 31 percent over the past month through Friday. That's around double the pace of a broader rebound in small-caps, while the Shanghai Composite Index rose 7.8 percent in that time.
Market support measures announced since late October-- including easing of trading restrictions, boosting liquidity and support for small companies -- have helped fuel the frenzy, analysts say. Policies to encourage mergers and acquisitions have lured bets on struggling firms on the assumption they might be targeted by companies seeking to list in the A-share market via reverse takeovers.
"The shift in attitude from regulators has fostered a preference for these small, poor- performing shells," said Yang Ziyi, fund manager at Shenzhen Sinowise Investment Co.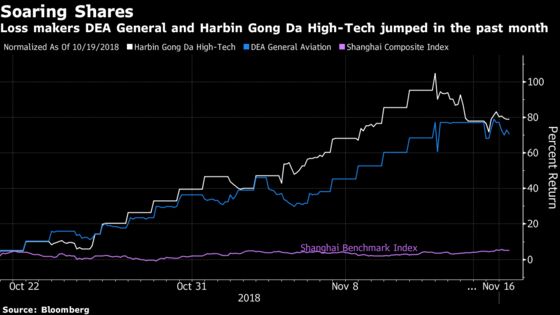 DEA General Aviation Holding Co. and Harbin Gong Da High-Tech Enterprise Development Co., for example, jumped 71 percent and 70 percent through Friday respectively since the Shanghai Composite fell to a nearly four-year low on October 18.
"It's a good investment strategy in a downbeat market," said Sun Jianbo, president of China Vision Capital Management in Beijing. "As long as a firm has the value of being a potential shell, people will buy into its shares," said Sun, adding that he is considering investing in such stocks.
The number of shares traded on the ChiNext Composite Index reached a record high of 8.7 billion on Tuesday, while turnover hit the highest since July. Although a small portion compared to the main board, it is seen as a reflection of the current small-cap excitement.
"To rescue the stock market, regulators are relaxing their grip over hot money," said Xiong Qi, Beijing-based deputy head of research at Windsor Capital Management Co. "Small funds and retail investors are following" speculators, he said.
Recent rallies in the wider market have underlined the difficult balancing act regulators have between supporting stocks while trying to curb the excesses of speculation. The Shenzhen Stock Exchange on Tuesday said it would step up monitoring the "abnormal" surge of Hengli Industrial Development Group Co.. The shares jumped the next day and it rallied 319 percent over the past month to be the best performing A share as of Friday.
This came as the Shanghai Stock Exchange said on November 2 that it was tweaking its approach in order to lower "unnecessary" barriers in stock trading. That followed a slew of measures to boost liquidity to ease share pledging risks.
"After the recent changes, as long as there is no insider trading, it's as if all trades can proceed more freely," said Zhang Gang, a Central China Securities Co. strategist in Shanghai.
Buying struggling stocks for their shell value is fraught with risk, analysts warn. China has simplified the rules for companies to list, while a planned new stock board for high-tech companies could potentially dampen demand for potential reverse-takeover targets.
The country's stock exchanges have issued at least 10 delisting warnings to companies found to have breached accounting regulations this year, the highest amount in at least 9 years. The Shenzhen and Shanghai exchanges issued new rules on Friday, saying companies that commit serious public safety violations would be delisted. The Shenzhen exchange said it had begun the process of delisting Changsheng Bio-technology Co Ltd. , which has been at the center of a vaccine scandal. It halted trading Monday after its shares jumped 41 percent over the previous seven trading days.
Both DEA General Aviation and Harbin Gong Da High-Tech fell by their daily limit on Monday.
"The trade only works under the premise that such stocks will never be delisted, which is unrealistic," said Shen Zhengyang, a Shanghai-based strategist with Northeast Securities Co.. "Such gains will never last long."
--With assistance from Marco Yung and Reinie Booysen.
To contact Bloomberg News staff for this story: Jeanny Yu in Hong Kong at jyu107@bloomberg.net;Amanda Wang in Shanghai at twang234@bloomberg.net;April Ma in Beijing at ama112@bloomberg.net;Amy Li in Shanghai at yli677@bloomberg.net
To contact the editors responsible for this story: Richard Frost at rfrost4@bloomberg.net, David Watkins, Sarah Wells
With assistance from Editorial Board
Get Your
Daily Newsletter
Get market moving news, top news & compelling perspectives
---