China's Gasoline Exports Fall to 14-Month Low on Tight Quota
China's Gasoline Exports Fall to 14-Month Low on Tight Quota
(Bloomberg) -- China's overseas shipments of gasoline slumped to the lowest in 14 months after refiners exhausted most of their allocated export quotas.
Motor fuel shipments tumbled to about 199,000 barrels a day last month, the least since May 2020, according to Bloomberg calculations based on General Administration of Customs data. Daily diesel exports also fell, slipping to around 334,500 barrels, the lowest level since September.
The trend may continue over the coming months after China slashed the second batch of export quotas for oil refiners in 2021. Processors including PetroChina Co. were granted an overall quota of 7.5 million tons, 75% lower than the first allocation this year and down 73% from the second batch in 2020.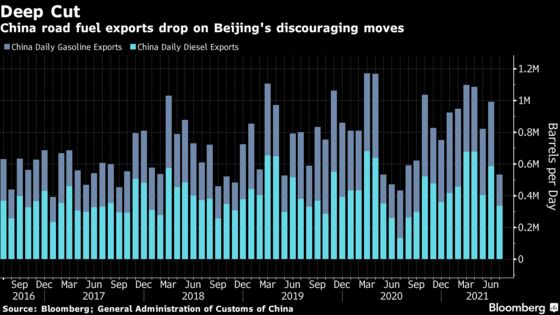 Beijing has also led a crackdown on private refiners that has reduced domestic supplies. Authorities introduced a new tax on some blending products favored by independents to make fuels, leading to a reduction in gasoline and diesel for the domestic market. The nation's state-run oil processors have stepped in to fill the void, reducing the need to export surplus fuel.