China-Related Stocks Gain Most in 3 Years as Trump-Xi Talk Trade
China-Related Stocks Gain Most in 3 Years as Trump-Xi Talk Trade
(Bloomberg) -- Stocks with ties to China are surging Thursday after President Donald Trump said he had a productive conversation on trade with Chinese President Xi Jinping.
"We talked about many subjects, with a heavy emphasis on Trade," Trump wrote on Twitter Thursday. "Those discussions are moving along nicely."
The iShares MSCI China ETF, ticker MCHI, was up more than 5 percent, and the iShares China Large-Cap ETF, ticker FXI, rose 4.2 percent, the most since September 2015 for both funds. The KraneShares CSI China Internet Fund ETF, ticker KWEB, gained 7.6 percent, the most in its history. Meanwhile, Goldman Sachs Group Inc.'s custom index of companies with high China sales exposure rallied 2.4 percent.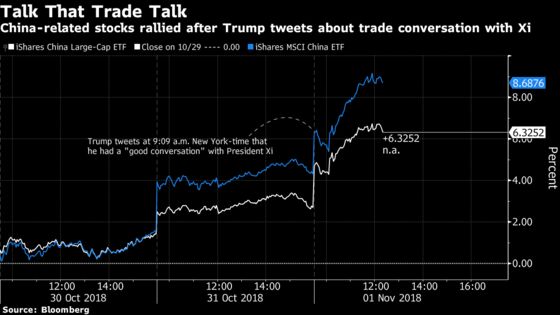 "The West feels comfortable that some kind of trade deal will get done, and that Xi will support the private sector," said Andy Wester, senior investment analyst at Proficio Capital Partners.
Trump's stance toward China has been closely watched by investors looking for signs of cooling tensions between the world's two largest economies. The U.S. is preparing to announce tariffs on all remaining Chinese imports by early December should talks between the two powers fail to ease the trade war, Bloomberg reported last month.
The ongoing trade war is starting to have an impact on China, with the country's economic statistics showing that manufacturing activity continued to worsen in October. Domestic economic growth in China has also slowed, and weak investor sentiment has dragged the stock market lower.
The rally in China-related stocks comes after a months-long slump, which has seen MCHI decline nearly 17 percent since the beginning of the year and FXI fall more than 11 percent.
--With assistance from Lu Wang.
To contact the reporter on this story: Vildana Hajric in New York at vhajric1@bloomberg.net
To contact the editors responsible for this story: Jeremy Herron at jherron8@bloomberg.net, Eric J. Weiner, Dave Liedtka