China Coking Coal Surges as Covid Throttles Mongolia Border
China Coking Coal Surges as Covid Throttles Mongolia Border
(Bloomberg) -- Coking coal prices in China have soared to a four-year high after a new Covid-19 outbreak slowed border crossings from Mongolia.
Trucks carrying coal across the border have fallen by about 80% since October amid efforts to control the virus as hundreds of new cases arise in Mongolia, according to analysts with Hexun Futures. The slowdown comes after China barred imports from its other top coking coal supplier, Australia.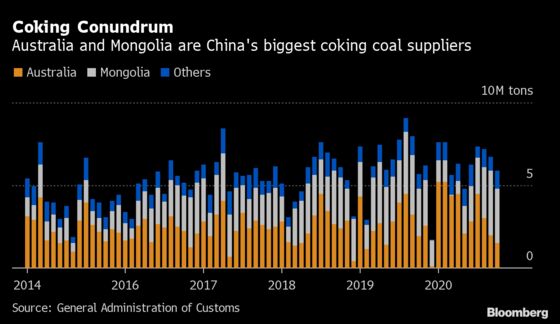 "The sharp rise in coking coal is mainly related to the sharp drop in Mongolian coal customs clearance," Hexun analysts said in the Dec. 1 note. "At the same time, coal mine safety supervision is tightening and the import of Australian coal is still restricted."
Coking coal futures in Dalian rose 4.1% Wednesday to 1,535 yuan a ton, the highest for the most-active contract since November 2016. The fuel is a key ingredient for China's world-leading steel industry.
Border traffic is being slowed as customs officers in both Mongolia and China administer health checks to truck drivers hauling coal from pits in the Gobi desert. It's the second key disruption this year for Mongolia's coal shipments to China after a six-week halt in February and March.
Mongolia's GDP for the first three quarters of 2020 declined 7.3% from the previous year, largely as a result of a weaker mining sector. Coal exports through the end of October were 36% lower than in the same period in 2019.
The disruptions on the Mongolian border come after China banned steel mills and power companies from purchasing Australian coal amid souring ties between the two nations.